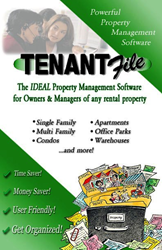 Austin TX (PRWEB) March 22, 2014
Lindsay Burton has spent multiple years working in the web industry. She has experience in responsive web design and development, flash, graphic design, photo editing, website maintenance, content writing, blogging, SEO management, and social media management. She currently resides in Los Angeles, CA.
The Tenant File is an established leader in the property management software industry. Founded in 1992, the Tenant File has assisted thousands of property owners and managers by providing a comprehensive, easy to use, and affordable system for keeping track of tenants and rental property accounting. Wayne Gathright, president of W G Software, Inc which owns the Tenant File says, We are happy to have Lindsay as part of our team, and look forward to expanding our social media outreach with her at the helm. He continues, We plan to expand our engagement with general public to inform and participate in the discussion of property management in general as well as the products and services that we offer.
In 2012, Lindsay was recognized by the National Center for Women and Information Technology for her work in the web industry. NCWIT strives to increase female involvement in the tech industry. She was awarded the national runner-up prize for the Aspirations in Computing competition. In addition, she was recognized as one of ten Central California winners for the same competition. In 2013 she received an honorable mention for Cognizants national Making the Future competition, which awards young adults for projects designed to encourage participation in the STEM field, for her Tech Future website, which she wrote content, designed, and developed. Cognizant provides information technology, business consulting, and enterprise applications.
As Director of Social Media Marketing, she will be working on organic ranking in search engines, expanding marketing through video and other media as well as expanding the Tenant File social media presence.
About Tenant File

The Tenant File provides a leading desktop based solution for property managers, owners, and landlords to manage their accounting and other aspects of property management. The line of products includes accounting and management software, tax software, word processing, work order management, vacancy posting and syndication, tenant screening and ACH processing.