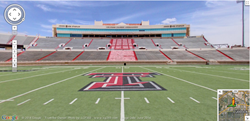 Lubbock, Texas (PRWEB) August 15, 2014
Texas Tech Athletics has virtualized its sports facilities using Google Maps Business View through LCP360. Prospective students and visitors can now walk major sports facilities like Jones AT&T Stadium directly from Google searches prior to stepping on campus through the see inside portal. Over 400 panoramic images, captured across multiple days, were linked together creating the virtual walk-through and posted to the Google Maps ecosystem.
Texas Tech then took the technology one step further and embedded the tours on their official athletics site, Texastech.com. Fans can virtually experience Jones AT&T Stadium, the Football Training Facility, United Supermarkets Arena, The Rawls Course, Rip Griffin Park, the Marsha Sharp Center for Student-Athletes, Rocky Johnson Field, and the McLeod Tennis Center.
Our University has some of the most impressive collegiate athletics facilities in the country. What better way to showcase to our students, fans, and alumni than using Googles Street View technology. Visitors can freely move through and pan our athletic facilities, providing a unique behind-the-scenes experience. Paige Holland TTU Director of Digital Media.
We love pushing Googles technology to the next level. The tours we build showcase and map large facilities like nothing else in the marketplace. Our next step for TTU is to create an interactive campus with our PanoSkin viewer to allow for a truly immersive experience, said Wojciech Kalembasa, CEO at LCP360.