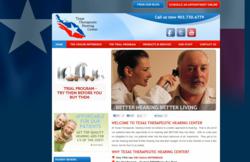 Longview, TX (PRWEB) January 16, 2013
Texas Therapeutic Hearing Center (TTHC) recently launched their upgraded website featuring a free trial program and their scientific and revolutionary approach to hearing loss, VesCor. Working with local marketing expert, Texas Biz Solutions, TTHC is now pleased to offer a functional and informative website for patients and potential patients.
With two locations in Longview and Tyler, Texas Therapeutic Hearing Center is the only licensed provider in Texas to implement VesCor. The approach is the result of 30 years of scientific research into hearing loss and can be implemented into most hearing instruments. TTHC was involved in an 18-month trial of the product and the results were exceptional. Nationwide only 40% of hearing aid wearers are satisfied with their hearing instruments performance. With VesCor, that number jumped to 97% satisfied wearers.
TTHC is pleased to feature VesCor not only because of the exceptional results, but also because the patients with existing hearing technology can also often implement VesCor into their current hearing aids, resulting in a cost-savings and improved performance. At TTHC, customers are able to try the products for four to six weeks, allowing for a comprehensive assessment of the technology.
We are excited that our new website can highlight who we really are with The VesCor Difference. Beyond that, the free trial program allows patients to try before they buy, which is almost unheard of in the hearing loss industry, according to TTHC Owner Jason Williams. Allowing customers to try the product before they purchase it results in happier patients and almost exclusively positive results.
Working with Texas Biz Solutions, TTHC is now able to better-connect with patients and potential patients through their websites. Site visitors can easily schedule an appointment online, find information on The VesCor Difference and other products and services, trial program information and staff biographies. Visitors can also link to their blog and other social media outlets including Facebook, Twitter and LinkedIn.
To learn more about Texas Therapeutic Hearing Center and The VesCor Difference, visit http://www.TexasHearingAidCenter.com.

Notes to Editors:
Texas Biz Solutions, with offices in both Dallas, Texas and Tyler, Texas, develops online marketing solutions for small businesses offering basic to comprehensive online marketing strategies for a competitively low price. These solutions include improving search engine optimization for top placement in Google+, building custom websites that integrate social media outlets, including Facebook, Twitter and YouTube, as well as custom management of online design and marketing strategies. For more information about Texas Biz Solutions, visit http://www.TexasBizSolutions.com.