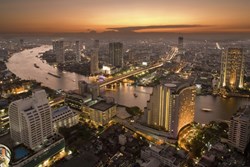 Bangkok, Thailand (PRWEB) October 08, 2013
myMEDHoliday.com, the worlds leading source of medical tourism information, showcases Thailands medical tourism statistics on its blog as international visitor arrivals to the Kingdom of Thailand reached an all-time high in 2012, with over 2.5 million medical tourists and gaining the title as the worlds most visited medical tourism destination. International patients seeking medical care visit Thailand for an assortment of treatments from cosmetic surgery, dentistry, cancer treatment, cardiology, weight loss surgery to sex change operations. You can view the full Thailands medical tourism statistics from 2010 to 2012 on the blog post by clicking here.
People are consistently choosing Thailand as their medical tourism destination because of the array of highly qualified doctors and surgeons, numerous internationally accredited hospitals, state of the art facilities and technology, little to no wait time even for complex, invasive procedures and the advantageous cost savings it provides over countries such as the US, UK, Australia and Japan. According to the Thailands Ministry of Public Health and the Kasikorn Research Center, an estimated 120 to 140 billion Thai Baht in revenue was generated in 2012 from medical tourism, up from 97 billion in 2011.