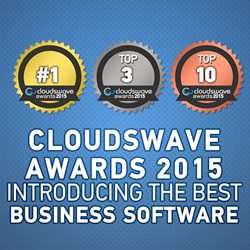 (PRWEB) March 11, 2015
If you have ever looked for a new software to implement, you would know how much of a hassle getting reviews is; going through every single review can be very time-consuming and frustrating.
In comes Cloudswave, an all-encompassing platform and cloud applications directory especially designed to help busy small and medium business owners and entrepreneurs make well-informed decisions. For each software listed on Cloudswave, a team of professionals carefully gathers all the good quality expert reviews available online into one, easy-to-surf interface.
Each review is assigned a score based on the rating or content of the author. Then, we apply a weighted average to summarize those scores, taking into account social indicators as well. The result is one distilled number from 0 – 100 called the Cloudswave Score.
All the scores are color-coded to make interpretation easier.
Introducing the 2015 Cloudswave Awards
For the first time, Cloudswave is proud to introduce the 2015 Cloudswave awards. These awards will serve as a reference for small and medium business owners and will better guide them in their software selection process.
The ranking of the 2015 Cloudswave Awards Best Business Software is based on the Cloudswave Score. There are 14 main categories to be tackled: