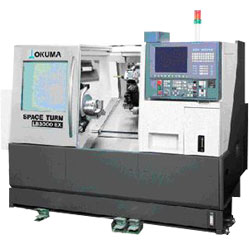 Dexter, MI (PRWEB) February 12, 2013
Protomatic has added a new machine tool to the mix, the Okuma LB3000EX, a horizontal lathe that creates more option for machinists and additional functionalities while adhering to the companys reputation for machine accuracy and repeatability as well as economical production runs.
A horizontal lathe is a type of machine tool that is used to cut steel and other work pieces. It is designed to cut pieces that are rotating using longitudinal and radial movements. Horizontal lathes feature a mounted base, a drive mechanism and a headstock at one end with a supporting tailstock on the other end.
The new horizontal lathe Protomatic invested in, the Okuma LB3000EX, features the following specs: a max machining length of 500 mm, a speed range of 45-5,000 revolutions per minute and a standard power of 22/15 kW. The addition of this tool creates more options for the companys machinists, which in turn increases their capabilities.
Specific features of this new horizontal lathe include a LNS quick bar feed system, thermal deformation and acoustical compensators, light-touch chucking, flood and programmable high-pressure coolant, large bore spindles with a high-horsepower motor, auto doors and more.
Protomatic is headquartered in Dexter, Mich. The company is a 30,000 square foot CNC milling and turning facility. Protomatic specializes in design support, prototyping, production and assembly of custom parts and systems. They provide these parts and systems to businesses in numerous industries including, aerospace, automotive, electronic and optical OEMs, medical and military.
The companys website was designed and developed by Market Pipeline. Market Pipeline specializes not only specializes in web design, but also creating SEO strategies. While they have worked with businesses in a variety of industries, their main focus is on industrial companies. Market Pipeline is based out of Portage, Mich. and employs a team of programmers, graphic designers and copywriters that collaborate to provide businesses with an optimized website that ranks high across search engines.