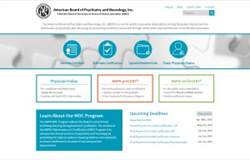 Buffalo Grove, IL (PRWEB) April 26, 2015
The American Board of Psychiatry and Neurology, Inc. (ABPN) is a not-for-profit corporation dedicated to promoting excellence in the practice of psychiatry and neurology through certification and maintenance of certification processes. The ABPN develops exams that assess current scientific knowledge and clinical expertise required to achieve and maintain Board certification. Since 1935, when its first examination was delivered, the ABPN has been serving the public interest and promoting excellence in practice. Over the past decades, the ABPN has also gained approval for recognition of 14 subspecialties of psychiatry and neurology.
From their new website, psychiatry and neurology medical residents, candidates, diplomates, training directors and coordinators, credentialers and the public can clearly find information about board certification, physician certification status and the MOC program. In compliance with Googles new mobile guidelines for search, Idea Marketing Group built the new website to perform well in search. In-house staff at ABPN can easily update the site on their own. The website features reorganized content and a streamlined navigation, a FAQ section, search site button, quick links for fast navigation to common tasks and an upcoming deadlines list. The new website gives the non-profit organization a platform to post news and media and announce openings.
It is our hope that the users of our new website find it to be an effective and efficient tool supporting them in their efforts to learn about the ABPN and its programs for certification and/or maintenance of certification, said Larry Faulkner, MD, ABPN President and CEO.
Visit the new American Board of Psychiatry and Neurology, Inc.s new nonprofit website.
Idea Marketing Group is a web design and marketing firm located near Chicago, IL. Idea has extensive experience working with nonprofit organizations in enabling them to meet their digital marketing needs as well as creating user-friendly websites that fill individual niche needs for their audience. Since 2009, Idea strives to provide creative, unique and cutting-edge websites along with individualized goal-driven marketing. Clients choose Idea Marketing for award winning web design and marketing services from an experienced and passionate web team that helps grow businesses and excel nonprofit causes. To learn more about American Board of Psychiatry and Neurology or Idea Marketing Group, visit http://www.ideamktg.com or call 312.834.7001.