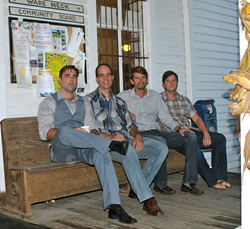 Gloucester, Va. (PRWEB) July 21, 2014
Gloucester, Va.s own rock group The Ballast Band is releasing its debut album, Constellation, at a 7 p.m. concert on Saturday, July 26, at Gloucester Arts on Main, 6850-B Main St. Tickets are $ 5, and the album will be available for $ 12, T-shirts for $ 10, or an album and T-shirt for $ 20.
With its strong harmonies, upbeat instrumentals and universally themed lyrics, The Ballast Band has been making audiences feel good throughout Eastern Virginia for the past two years. Decidedly home-grown, the bands original music is rock n roll with a hint of blues and funk.
The bands name comes from the nautical influence of Virginias Tidewater region, but it also represents the common quest for balance in peoples lives as they work, play, love and raise families.
As a new jam ensemble on the block, The Ballast Band also performs many popular cover songs at concerts from bands such as the Rolling Stones, the Beatles, the Allman Brothers, Neil Young, REM and many others.
Members of the band are Matt Williams, guitar and vocals; Frank West, keyboards and vocals; Ken Gibson, drums; and Charles Records, bass guitar and vocals. Williams and West are a combination of self-taught and classically trained musicians on their first foray into a rock ensemble, while Gibson and Records both played in bands during college.
By day, The Ballast Band members are leaders and business professionals in the Gloucester community. Matt Williams is the owner of Under Boats, a commercial diving and marine salvage company, while Dr. Francis West is a physician with Mobjack Medical Group. Ken Gibson is an attorney with GibsonSingleton, PLLC, Virginia Injury Attorneys, and Charles Records is a developer/engineer with Zandler Development.
Because The Ballast Band members live and work in a 9-to-5 world, striving to balance professional lives and families, their original tracks reflect the joys and struggles of everyman.
Leaving California is an uplifting favorite about Matt Williams heartwarming decision to return to Virginia so he could get married and start a family. While celebrating the joys of requited love, the song also speaks about the larger themes of becoming an adult, and moving into that responsible phase of life.
The albums title track, Constellation, also resonates with audiences describing how band members feel when their wives start a book club, wondering how they have possibly reached that tame place in life.
Reese Williams, deejay and on-air personality for Xtra 99.1 FM, will be among the guest performers with The Ballast Band at the release party. Williams said, The Ballast Band won me over the first time they performed in our studio. Their organic sound clearly displays the talent of every member and shows off the different genres they're capable of mastering.
Their band-written music encompasses life experiences from introspection to light-hearted good times that everyone can identify with, but they manage to convey it in an original voice, she added. The sound of their music can range from a laid-back sailing soundtrack, to bass-driven funk that has you moving your body to the beat the whole way through.
Popular deejay Reese Williams concluded, Their natural chemistry is a delight. The Ballast Band is one to watch!
The Ballast Bands debut album, Constellation, was recorded at Montrose Recording Studio in Richmond with sound engineer and producer Stewart Myers, former bass guitar player and vocalist for the Richmond-based rock band, Agents of Good Roots. The album was mastered by Fred Kevorkian Mastering in New York, giving it a polished sound.
A free download of Leaving California is available to the public immediately from http://www.facebook.com/theballastband. Following the July 26 release party, the entire album will be available for purchase, including on iTunes, Spotify, and AmazonMP3.
###
For more information, to schedule an interview, or to request a free copy of the CD, call or text Beth Gibson at 214-674-5131, or email bethpgibson(at)yahoo(dot)com.
Notes: A free download of Leaving California track is available immediately on http://www.facebook.com/theballastband.
Radio stations and other members of the media who request the CD will receive it by July 26.