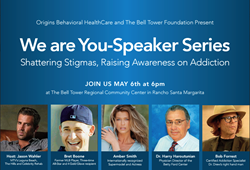 Orange County, Calif., (PRWEB) April 30, 2015
Origins Behavioral Healthcare and The Bell Tower Foundation are pleased to announce Orange County's very first "We Are You" Speaker Series, an extraordinary panel of celebrity and expert guests who will be sharing their expertise on the topic of addiction in order to raise awareness and de-stigmatize this terrible disease. The panel includes MTV reality star, Jason Wahler, musician and drug counselor, Bob Forrest, former MLB star, Bret Boone, international supermodel/reality star, Amber Smith, and world renowned addiction specialist, Dr. Harry Haroutunian. On Wednesday May 6th, 2015, join us at the Bell Tower Regional Community Center in Rancho Santa Margarita at 6pm for an unforgettable evening where you will hear personal stories, obtain information on how to combat addiction, and gain insight as to what steps to take if you or a loved one faces this battle.
In this day and age, most families have come face-to-face with the reality and prevalence of addiction to drugs and alcohol. About 1 in 9 youth or 11.4 percent of young people aged 12 to 25 used prescription drugs nonmedically within the past year. (National Survey on Drug Use and Health). Twenty-five percent of those who began abusing prescription drugs at age 13 or younger met clinical criteria for addiction sometime in their life. (National Survey on Drug Use and Health)
We are honored to sponsor the first ever We are you speaker series with Jason Wahler, and his team of Celebrities and experts as they share their personal experiences and struggles. It is our hope that by bringing this event to our community we will raise awareness towards this epidemic that is affecting children and adults everywhere. Says Sherri Lex, Board of Directors, The Bell Tower Foundation.
Join Orange County City Council Members, teachers, experts and other families for an evening dedicated towards educating our youth and shedding light on the dangers and prevalence of this disease. Most teens do not begin experimenting with drugs and alcohol expecting to become addicted. This exceptional panel will share first hand accounts of how one time use can turn into a lifelong battle and the steps one should take to get help.
We are not alone in the battle against addiction. Whether you are living in the hills of Orange County or the streets of Los Angeles, the chances are you or someone you know has been touched by addiction. Join the rest of the community and help educate our kids and inspire those in need to get help so we can end the battle once and for all.
THE BELL TOWER FOUNDATION:

The Bell Tower Foundation based in Rancho Santa Margarita, California, supports local cultural, educational, civic, recreational, and social needs along with fostering community spirit and connecting volunteers.
The Bell Tower Foundation's goal is to continue to emerge as a community foundation that partners with local groups to further causes. This means support through monetary donations, use of our volunteer distribution list which is grown at local events, and launching programs that support the needy, the unemployed, the underserved, and the next generation in our community. We are more than a volunteer connection hub, and we are flexible in how and to whom we contribute.
The Bell Tower Foundation supports the following programs locally: Fresh Produce Food Pantry, Senior Home Repairs, Support of the Marine Battalion 2/5 out of Camp Pendleton, Teen Council, Zero Trash Initiative, and signature events for the community.
ORIGINS BEHAVIORAL HEALTHCARE:

Origins Behavioral Healthcare is a licensed provider of longer-term, gender-specific residential substance abuse treatment and continuing care services for young adults, adults, baby boomers and seniors. The companys innovative programs comprise a comprehensive continuum of care for the treatment of alcoholism, addiction and co-occurring disorders. Origins premier campuses are located in carefully selected locations around the United States, including South Padre Island, Texas and the recently acquired Hanley Center in West Palm Beach, Florida. Learn more about Origins programs or take a virtual tour of our locations at http://www.originsrecovery.com. For the latest Origins news, follow us on Facebook and Twitter.
JASON WAHLER:

Jason Wahler is a Host, Actor and TV personality who appeared on Laguna Beach, The Hills, Celebrity Rap Superstar and eventually Celebrity Rehab with Dr. Drew, after battling through a public struggle with addiction. Sober since July 2010, Jason has since dedicated his life to raising awareness towards addiction and hopes to one day change the publics negative perception of this deadly disease.
BOB FORREST:

Musician Bob Forrest is known as the lead singer of the Los Angeles bands Thelonious Monster and The Bicycle Thief. He is also known as a drug counselor on VH1s hit reality shows Celebrity Rehab and Sober House. Bob is a Certified Addiction Specialist who has been in recovery for more than thirteen years. He has worked side-by-side with Dr. Drew Pinsky serving as his Head Counselor and Program Manager for many years. He is also the former Chemical Dependency Program Director at Las Encinas Hospital, in addition to recently launching his own Recovery Services and Malibu-based sober living facilities. As for his music career, he released his first solo album in 2006 called Modern Folk and Blues Wednesday. He is also responsible for the song "Moonshiner" on the soundtrack for I'm Not There, a biographical musical film inspired by the life of Bob Dylan.
BRET BOONE:

Bret Boone, born on April 6, 1969, is a former MLB second baseman. As a four-time Gold Glove recipient, two-time Silver Slugger Award winner and a three-time All- Star, Boone has played for the Seattle Mariners, the Cincinnati Reds, Atlanta Braves, San Diego Padres and the Minnesota Twins.
AMBER SMITH:

An internationally recognized supermodel and actress for the past 20 years, today Amber Smith is perhaps even more recognizable as one of the top reality TV stars in America. Her participation in the VH-1 TV series Celebrity Rehab, Sober House and Sex Rehab w/ Dr. Drew, has propelled her to a new level of fame. It is now Ambers mission to inspire individuals to seek treatment and help others recognize that there are many different kinds of addiction. Amber now resides in Los Angeles, California.
DR. HARRY HAROUTUNIAN:

Dr. Harry L. Haroutunian, known by all his patients as "Dr. Harry" is an internationally known speaker on topics of the addiction field. He has developed the "Recovery 101" lecture series on topics of Addiction Medicine, Recovery Issues, Communication Skills and Relapse Prevention. As Physician Director of the Betty Ford Center, Dr. Haroutunian has contributed to the development of a variety of programs, including the Extended Care Program the Licensed Professional Program and the Clinical Diagnostic Evaluation Program. He is the author of "Being Sober: A Step-by-Step Guide to Getting To, Getting Through and Living in Recovery" and collaborated with Dr. Louis Teresi, author of 'Hijacking the Brain: How Drug and Alcohol Addiction Hijacks our Brains – The Science Behind Twelve-Step Recovery."
WHERE:

Bell Tower Regional Community Center

22232 El Paseo

Rancho Santa Margarita, Ca. 92688
WHEN:

Wednesday May 6th at 6pm
For all media inquiries, please contact:

Dana Lewis

Dana@Valerieallenpr.com

(818) 536-3100

Valerie Allen Public Relations, Inc.