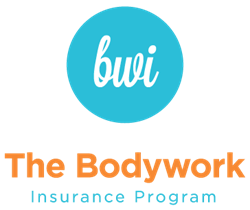 Pleasant Grove, UT (PRWEB) July 24, 2013
The Bodywork Insurance Program (BWI) has reached its 3,000th policy, up from just 1,000 in February 2013. Everyone in the beauty & health services industry, from massage therapists to face painters, has been enjoying the wide range of liability insurance coverage available for only $ 99 per year. Students in the beauty and health industries have also found BWI to be a benefit with student coverage available for only $ 67 per year. BWIs unique online interface has made the insurance purchasing process faster and more efficient than most other programs who may require wait times for quotes and manual policy processing.
BWI launched in September 2012, and between then and February 2013 grew to 1,000 policyholders. Through social media, SEO, advertising, and other marketing efforts, the online insurance program for massage therapy and other beauty industries has tripled the number of policyholders over the past five months. BWI is quickly becoming the trusted brand for quality massage insurance, cosmetology insurance, and esthetician insurance coverage, among other beauty industry fields. Eligible groups for the BWI program include massage therapists, cosmetologists, estheticians, face and body painters, and more.
We are so excited to have this program growing so quickly. We are learning more about our customers every day, which helps us customize their insurance experience in a way that benefits them more than any other program out there, said Daryle E. Stafford, President & CEO of Veracity Insurance Solutions, LLC (Veracity), BWIs program manager. BWIs structure allows our customers to save money without sacrificing quality.
BWIs insurance coverage includes General Liability, Professional Liability, Products & Completed Operations, Identity Recovery, Personal & Advertising Injury, Business Personal Property, and Medical Expenses. Veracity has been catering to the massage and beauty industry for over 10 years and launched the BWI online program in September 2012.
For more information, visit http://www.insurebodywork.com or call 888-568-0548.