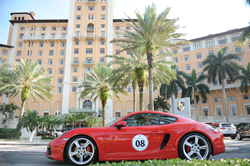 MIAMI, FL (PRWEB) March 25, 2015
Passion. Philanthropy. Porsche. On March 21st, nine Porsches seized the streets of Miami for the first ever technology-enabled and social media-driven #PorscheScavengerHunt. Hosted by Martini Media and THE COLLECTION, Miamis foremost luxury automotive dealership, the exclusive, invite-only Porsche Scavenger Hunt included teams of prominent Miami enthusiasts competing for a $ 5,000 donation to their charity of choice. Invitees took the streets in the most notable Porsche vehicles, which included the highly sought-after Macan S, Cayman, Boxster, Boxster GTS, Panamera Turbo S, Cayenne Turbo and 911 Targa 4S.
Some of Miamis most influential business leaders, journalists and trend-setters attended the eventincluding real estate developer Gil Dezer, Vixen Workout Founder Janet Jones, Miami.com Editor Fred Gonzalez, Haute Livings Hadley Henriette, Tara Inks Nick DAnnunzio, Million Dollar Listings Chad Carroll, Latin recording artist Fantine, and bloggers Daisy Olivera and The Wordy Girl Maria Tettamanti. After completing six clues and two bonus clues, the winner of the 2015 Ultimate Porsche Scavenger Hunt was: Janet Jones who donated the $ 5000 winnings to Live Like Bella Foundation for Childhood Cancer.
We wanted enthusiasts of luxury cars to be able to experience what its like to drive a Porsche — whether its through social media or at THE COLLECTION — combined with the fun and excitement thats part of being in Miami, said Ken Gorin, President and CEO of THE COLLECTION. Its a great opportunity to share this experience with thousands of online supporters — through Instagram, Facebook and Twitter.
The #PorscheScavengerHunt marks another exciting step forward in the realm of consumer engagement and digital marketing for luxury automotive brands. Using the latest in technology, GoPros, drones and cameras captured every moment from the iconic Miami destinations, which included The Biltmore Hotel, Kennedy Park, Coco Plum Circle, Marlins Park, Versailles and Wynwood. With technology from Stray Boots, which turns a physical map into a digital adventure, drivers followed the trail of clues that led them to these prominent Miami spots.
To enhance the live component of the event, all hunters were initially told to post on their social media accounts upon completion of each task. Points were awarded based on the amount of completed tasks, pictures posted on social media and time. The scavenger hunt finished with a cocktail toast at THE COLLECTION, where the winner was selected and received the $ 5,000 check for their charity of choice.
As peoples concept of luxury evolves, its up to automotive brands to develop inventive partnerships and find creative ways to engage their audience, said Erik Pavelka, CEO of Martini Media, the leaders in engaging the affluent online. If your audience spends much of their day online, and it forms a big part of their consumer habits, then you have to give a digital brand experience that matches what they expect from your product.
For more information on the newest vehicles from THE COLLECTION Porsche, visit http://thecollectionporschemiami.com/ or call us today at 305-444-5555.
About THE COLLECTION

On the corner of Bird Road and Ponce de Leon Boulevard in Coral Gables stands South Floridas definitive luxury automobile destination, THE COLLECTION. President and CEO, Ken Gorin, a 36-year industry veteran in the exotic and luxury automobile business has built a world-class dealership housing the globes most celebrated automotive brands: Audi; Porsche; Ferrari; Maserati; Alfa Romeo; McLaren; Aston Martin and Jaguar. THE COLLECTIONs success is credited to outstanding service, exceeding customer expectations and to a staff that treats customers like members of their family. THE COLLECTIONs facilities include a state-of-the-art service department, parts facility, and boutique to outfit todays high performance enthusiast. In October 2010, The Collection proudly inked a deal with seven-time NBA Miami HEAT Champion, ten-time NBA All-Star, and Olympic Gold Medalist, Dwyane Wade. He is now teamed up with THE COLLECTION as the face of the brand. To experience The COLLECTION, call 305.444.5555, or visit http://www.thecollection.com.