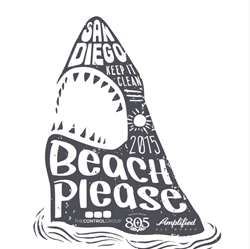 San Diego, CA (PRWEB) May 22, 2015
On Friday May 29th, beginning at 9am, The Control Group will once again team up with I Love A Clean San Diego for their 3rd annual beach clean-up day on their adopted stretch of beach covering Pacific Beach and Mission Beach. This years cleanup will be a collaboration with Amplified Ale Works and Firestone Walker Brewery.
Through outreach, community involvement and example, I Love A Clean San Diego leads and educates the community to actively conserve and enhance the environment. The Control Group began their partnership with I Love a Clean San Diego in September, 2013. During their first beach cleanup, TCG collected numerous piles of trash along a one mile stretch of beach between Crystal Pier and North Mission and the event was such a success that it became an annual affair.
This year with the help of Amplified Ale Works and Firestone Walker Brewery, the event promises to be bigger and better. Giving back to the community is also very core to the success of Firestone Walker. According to Dave Kachorek, Firestone Walker San Diego Senior Market Manager, "California represents over 3/4 of our brewing business, we build our beers for here. Keeping California roots, clean, and for generations to come."
"Amplified is excited to partner with The Control Group & Firestone Walker on our post Memorial Day beach cleanup. Being a native San Diegan and lifelong surfer, I fully understand the challenges we face as a community in keeping our beaches and ocean clean and am proud that we can do our part in serving our community," said Amplified Ale Works Co-Founder Alex Pierson.
This years cleanup will be open to the public and will end in a Firestone Walker Tap Takeover at Amplified Ale Works which will feature a selection of Firestone Walker beers alongside some Amplified favorites which will satisfy the taste of any true beer aficionado.
According to statistics released by San Diego Coastkeeper and the Surfrider Foundation of San Diego County, Volunteers at beach cleanups around San Diego County in 2014 removed almost 10,500 pounds of litter, comprised of nearly 208,000 pieces of refuse. TCG maintains a passionate and extremely active corporate social responsibility program. The company supports a multitude of organizations and charities, both in the local community and nationwide.
A list of some of the organizations that The Control Group has recently supported includes TERI, Inc., Hoover High School AOIT, Junior Achievement of SD, the International Rescue Committee, the Helen Woodward Animal Center, Friends of Downtown, Toys For Tots, Together We Bake, Odyssey Teams / LN-4 Project, Power Scuba, and the City of San Diego.
*******************

About The Control Group

Created in 2011, The Control Group is one of the fastest-growing technology companies headquartered in San Diego. Their expertise is in web development and internet marketing. The company is the developer of InstantCheckmate.com, one of the top people search engines in the world. Because the company is already profitable, it has been able to develop a company culture that is shaking up the Southern California business community. Core to the company culture is its reach into the community to make a positive impact by volunteering and getting involved in important causes.
About Amplified Ale Works Beer Garden

Amplified Kitchen + Beer Garden is an ocean view brewpub located in the Pacific Beach neighborhood of San Diego. We strive to create a relaxed, community environment that offers California fresh, Mediterranean-inspired food along with freshly brewed West Coast and Belgian-style ales. There's no better place to take in views of the Pacific and enjoy all of what San Diego has to offer than right here on our beer garden patio. Prost!
About Firestone Walker Brewery

Lions, Bears & Beer…

Founded in 1996 by Adam Firestone (aka the Bear) & David Walker (aka the Lion), Firestone Walker Brewing Company began as a small brewery with roots in wine country on Californias Central Coast, the 805. Now a regional brewery, our singular purpose remains to craft ever better beer. Passionately in pursuit of the perfect beerand never satisfied.