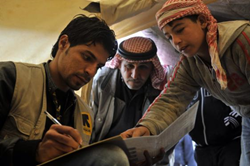 San Diego, CA (PRWEB)
July 14, 2015
The Control Group (TCG) will be hosting a film screening of "Escaping Syria" with the International Rescue Committee on July 16th, 6:30pm at their Little Italy office (1350 Columbia Ave, 9th flr). "Escaping Syria", is a short documentary film about four families forced to flee their homes in war-torn Syria. The IRC will conduct a short QA session/ presentation where they will share their current programming that is taking place in Syria. Afterwards, guests can enjoy drinks donated by The Control Group and food donated by Chipotle while meeting with other attendees.
The plight of Syria has been a major focus in the media as of late. The number of Syrians who have fled to neighboring countries to escape violence has surpassed four million, according to data released by the United Nations refugee agency.
The Control Group has a long-standing partnership with IRC, specifically with their youth program. Recently TCG conducted mock interviews with students from the IRC to prepare them to enter into the workforce. San Diego has a large number of refugees with an average of 200 newcomers arriving in San Diego County each month, both children and adults. The IRC helps these refugees transition into their new lives, and raises awareness within the community about the challenges they face as new Americans.
We have had the pleasure of working alongside the IRC in support of Hoover Highs Academy of Information Technology. Through this collaboration, we've realized just how important the work that the IRC does really is, not only for our refugee population, but for our community as a whole, said Sean Shahrokhi, Director of Communications for The Control Group. Without organizations like the IRC, there would be countless refugees here without the proper support and education to pursue those freedoms and liberties that they have fought so hard to obtain. TCG is committed to help do our part in recognizing this vision.
Space is limited for this event. If interested in attending or would like additional information, please contact Sophie Cheetham at Sophie.Cheetham(AT)Rescue.org or 1 619-641-7510 x 293.
About The Control Group
Created in 2011, The Control Group is one of the fastest-growing technology companies headquartered in San Diego. Their expertise is in web development and internet marketing. The company is the developer of InstantCheckmate.com, one of the top people search engines in the world, and NextGen Leads, an extremely high quality insurance leads platform focused on streamlining lead acquisition. Because the company is already profitable, it has been able to develop a company culture that is shaking up the Technology Sector. Core to the company culture is its reach into the community to make a positive impact by volunteering, supporting, and getting involved in numerous important causes.
About International Rescue Committee
The International Rescue Committee helps people whose lives and livelihoods are shattered by conflict and disaster to survive, recover, and gain control of their future. IRC teams provide health care, infrastructure, learning and economic support to people in 40 countries, with special programs designed for women and children. Every year, the IRC resettles thousands of refugees in 22 U.S. cities. The IRC was founded in 1933 at the request of Albert Einstein.