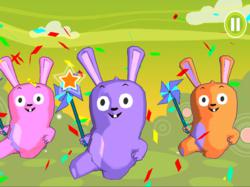 Cupertino, CA (PRWEB) January 17, 2013
Lexis Numerique are proud to announce the launch of PooYoos, Ages 3+ for iOS and Android devices – featuring adorable baby animals known as Pooyoos in a loveable animated world of educational and fun mini-games. Pooyoos, 3+ has been designed to take children between the ages of 3 and 6 on an adventure to discover letters, shapes, nature, colours, music and more. Helping children learn, improve co-ordination, gain confidence and most of all, have fun.
Presented in the style of a fully animated cartoon, children are guided though the various adventures and games via an encouraging and fun voiceover that provides clear instructions, narration and rewarding feedback when correct in-game actions are performed. Animation is fast and colourful, whilst the requirements of each game are always clear, with wrong actions or answers simply guiding the user to the correct answer – ensuring every childs confidence is maintained and progression through the game continues.
Designed by a team of experts, all activities are perfectly suited to boys and girls and a dedicated and purpose recorded soundtrack will capture their imagination and engage all players with this enchanting world. Additional Pooyoo characters can be activated, along with extra games, and new characters and games are due to be released to offer an even greater world of adventure.
Lexis Numerique have a history of producing world class games for home consoles and mobile devices, catering for a variety of audiences. commented Kemal Djamil of Lexis Numerique Pooyoos, 3+ leverages this expertise to focus on educational gaming for young children by creating a captivating, fun and educational world that we are sure they will love!
Pooyoos, Ages 3+, the adorable educational experience for children between the ages of 3 and 6, is available now as a free universal app for iPhone and iPad in the App Store at http://itunes.apple.com/app/id515220574?mt=8 and for Android devices from Google Play at https://play.google.com/store/apps/details?id=com.LexisNumerique.Pooyoos.
Learn more at: http://www.pooyoos.com/
For more information or media inquiries, contact Mark Johnson of appshout! on behalf of Lexis Numerique at +1 408 757 0156 or press(at)myappshout(dot)com.
About Lexis Numerique
Created in 1990 and with more than nine million games sold worldwide (as of Jan. 2010) through prestigious partners (Ubisoft, Disney, Electronic Arts), Lexis Num