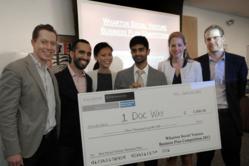 Philadelphia, PA (PRWEB) April 15, 2013
The Wharton Schools Social Impact and Private Equity/Venture Capital student clubs announced that the student team 1DocWay won the $ 3,000 Grand Prize of the inaugural Wharton Social Venture Business Plan Competition. The prize was awarded at the Social Venture Final Round on April 12, 2013, after finalists delivered pitches before a judging panel of experts in entrepreneurship, venture capital, technology, and social impact.
1DocWay is an online platform that helps hospitals expand psychiatry inpatient and outpatient revenue by connecting to underserved and rural patient populations. Its HIPAA-compliant video chat platform transforms any room with a webcam and internet connection into a doctors office helping patients access psychiatrists quickly and easily. Rural, elderly, and other underserved patients can schedule appointments online, building hospitals referral base and reducing the high cost of co-morbidity or incidence of both chronic physical and mental illnesses.
In the past year 1DocWay has implemented over 2,000 doctor-patient sessions. In addition, 1DocWay has received recognition as a Wharton Venture Initiation Program selection, and as a winner of Independence Blue Cross IBX Game Changers Challenge and the Wharton Venture Award.
The Wharton Social Venture Business Plan Competition, held for the first time this year, was open to both individuals and teams with high-impact, sustainable business ideas that address a pressing global social issue. The competition aimed to promote social impact at Wharton and the broader Penn community by providing opportunities and resources for budding social entrepreneurs and global change-makers.
The other finalists were: