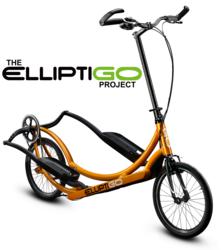 San Diego, CA (PRWEB) October 02, 2012
The ElliptiGO Project, a group of elite athletes focused on using innovative training tools and techniques to improve performance, today announced that elite runners Ricky Flynn and Matt Llano, and elite triathlete Ben Greenfield have joined the Project, bringing the number of Project members to 17. Leveraging the expertise of the Projects integration advisor, Bob Augello, these athletes are incorporating the ElliptiGO and other innovative techniques and tools into their training in order to improve their running performance and achieve their goals.
Top-ranked age-group triathlete, Ben Greenfield, is a coach and author of several books on fitness, metabolism and diet. Known for trying alternative methods of training, he incorporated the ElliptiGO into both training and daily life more than a year ago, achieving stellar results that include winning the 2011 ITU Long Distance Triathlon World Championships for his age group.
Ive always emphasized quality over quantity in both my own training and with my athletes, states Greenfield. Your joints have a finite amount of pounding they can take before they start to break down, so you have to train smarter, not harder. To me that means lots of intervals, more cross-training and less running. I used the ElliptiGO twice a week and only ran once a week in my training leading up to my win at the 2011 Long Course World Championships. Not only that, but I was faster than the previous year when I was running more often. Its not hard to make the connection. The ElliptiGO is an effective, efficient way to cross-train.
2009 Division III Cross-Country Champion, Ricky Flynn, has also adopted the ElliptiGO as part of his cross-training regimen. Coming off a 12th place finish in his debut marathon at the 2012 U.S. Olympic Marathon Trials, Flynn was looking for ways to help himself get faster without having to subject his body to higher mileage. My training philosophy revolves heavily around aerobic strength in running. I am a big believer in using cross-training to help build extra fitness. Flynn is training to set PRs in distances from 5,000m to the marathon in 2013.
NCAA All-American in the 10,000m, Matt Llano, was also looking for a way to supplement his training and achieve his goal of running in the 2016 Olympics. When I really boil it down, I have a fairly simple training philosophy: Train hard so the races feel easy. My long-term approach to racing and training emphasizes aerobic strength and steady progression, with subtle changes each cycle to give my body a new stimulus and therefore to encourage continued development.
As members of the Project, Greenfield, Flynn and Llano will have access to the expertise of Integration Advisor, Bob Augello. Augello has been working with endurance athletes at all levels for more than 20 years with a particular emphasis on using innovation to improve performance. His role is to advise Project members on how they can best use all the different tools and techniques identified by the Project. Up-and-coming runners like Ricky and Matt are going to benefit from incorporating innovative cross-training tools early in their career, said Augello. More seasoned athletes like Ben are going to benefit immediately from the reduced impact and lowered injury risk. Were looking forward to seeing how all three of these athletes use innovative tools like the ElliptiGO to minimize their training injuries and contribute to long, successful athletic careers.
The 17 members of The ElliptiGO Project are: