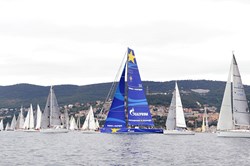 TRIESTE (ITALY) (PRWEB) October 06, 2013
Almost 150 yachts gathered for the Bernetti Cup, a 15-nautical-mile long sailing race between the cities of Trieste and Sistiana in Italy. In previous editions, the large fleet on such a short starting line caused numerous close-calls and even collisions, so this year the organisers divided yachts into two groups starting 20 minutes apart. The Esimit Europa 2 started at 9.30 am CEST in the first group (Open Sailing class), sailed very solidly and gained a significant advantage over its nearest competitor by the first buoy. The monohull line honours winner at this years Rolex Fastnet Race one of the worlds most prestigious races left nothing to chance throughout the remainder of the Bernetti Cup. The European-flagged maxi yacht, sponsored by Gazprom, maintained a good pace, increasing the distance over its competitors and crossed the finish line at 10.47 am CEST. This win was Esimit Europa 2's 27th consecutive line honours victory.
The Esimit Sailing Team confirmed its dominance in the European sailing scene by securing a significant distance over second-placed Sayonara (ITA) and the third-placed Alligator 2 (SRB). Such a professional team performance ensures that the Barcolana regatta will be a highly competitive event with more than 1,800 boats at the same starting line it ranks as the worlds largest single start race. Should Esimit Europa 2 prevail at the 45th edition of Barcolana, it would be her fourth consecutive victory.
The Bernetti Cup is one of eight races in the Lombardini competition series. The Palermo-Monte Carlo race is also part of the series and is where Esimit Europa 2 scored three consecutive line honours victories from 2010 to 2012, setting a course record in 2010.
After the Bernetti Cup and the subsequent Barcolana regatta, next on the Esimit Sailing Teams schedule is the passage record attempt between the cities of Trieste and Valletta (Medot Sailing Trophy) which was established in 2012. Then the final race on this years sailing calendar is the 606-nautical-mile long Maltese offshore classic the Rolex Middle Sea Race which this year has attracted a record fleet of 109 yachts from 18 different countries.
The Esimit Europa 2 yacht sails under the European flag, competes for the Slovenian Sailing Federation and Yacht Club de Monaco, while also promoting the sailing values of teamwork, solidarity, innovation and collaboration. The team comprises 18 highly skilled sailors from 10 different European countries. The Esimit Europa project's main sponsor is the global energy company Gazprom, while BMW is its official partner. The project is under the patronage of the President of the European Commission, Jos