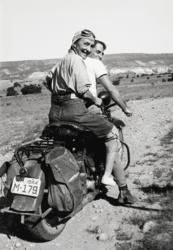 Santa Fe, New Mexico (PRWEB) October 04, 2012
The Georgia OKeeffe Museum announces a series of events from November 14-17, 2012 to celebrate Georgia OKeeffes 125th birthday, which falls on November 15. Events will include a screening of the award-winning short film "Bone Wind Fire," free admission to the Museum, cooking demonstrations on desserts and cakes popular in New York and New Mexico during OKeeffes lifetime, an illustrated lecture by OKeeffe biographer Roxana Robinson, a jazz concert featuring Grammy award-winner Karrin Allyson, and more.
Multiple Santa Fe hotels (including Bishops Lodge and The Eldorado) will join the celebration as Preferred Hotel Sponsors by offering discounted rates from November 14-17. The week-long birthday celebration is being sponsored by Los Alamos National Bank, Santa Fe.
Georgia OKeeffes legacy lives on in New Mexico and in the world, and we are honored to celebrate her life and work, said Rob Kret, Director of the Georgia OKeeffe Museum.

The current exhibition, Georgia OKeeffe and the Faraway: Nature and Image, on display through May 5, 2013, showcases the artists personal effects and camping gear, as well as work inspired by her favorite places in the Southwest such as the Black Place and the White Place.
BIRTHDAY EVENTS

Ongoing: Photography Competition

To honor the 125th birthday of Georgia OKeeffe, the Museum has organized a flower-themed photography competition divided into three age groups: adults 21 years and older, students 18 to 21 years of age, and students below 18 years of age. The early entry deadline is OKeeffes birthday on November 15, 2012, and the final deadline is December 19, 2012. More information can be found on the Museums website.
November 14, 1 PM and 6 PM: FILM SCREENING OF Bone Wind Fire at Museum Education Annex, 123 Grant Avenue.

This 30-minute film by Jill Sharpe debuted at the Vancouver Film Festival in 2011 to great acclaim. An intimate and evocative journey into the hearts, minds, and eyes of Georgia OKeeffe, Emily Carr, and Frida Kahlothree of the 20th centurys most remarkable artiststhe film uses the womens own words, taken from their letters and diaries, revealing three individual creative processes in all their subtle and fascinating variety. The International Festival of Films on Art in Montreal named Bone Wind Fire as the Best Canadian Film in March 2012.
November 15, All Day: FREE ENTRY to the Georgia OKeeffe Museum

The Georgia OKeeffe Museum, located on 217 Johnson Street, Santa Fe, NM 87501, will be open to the public free of charge on the artists birthday. The current exhibition, Georgia OKeeffe and the Faraway: Nature and Image, features some of the personal effects and camping gear of the artist on display, along with pastels, paintings, and sketches of areas beloved to OKeeffe in the Southwest, including The Black Place and the White Place. Photographs of OKeeffe by Maria Chabot are also featured.
November 15, 10 AM-1 PM: Georgia OKeeffes 125th Birthday Party

The Georgia O'Keeffe Museum and The Santa Fe School of Cooking come together to present a birthday celebration honoring O'Keeffe, featuring stories and food representing her life. The event will include a demonstration-style class featuring desserts from two era's that shaped her career: the Roaring Twenties and Great Depression in New York City, and the Forties wartime in New Mexico. On the menu will be red velvet cupcakes, cheesecake, shortbread, tres leches cake, biscochitos, and Mexican chocolate pudding. $ 55 per person includes a demonstration, recipes, good stories, lots of fun and dessert. Register at santafeschoolofcooking.com or call 505-983-4511.
November 15, 6 PM, OKeeffe Lecture & Reception with Biographer Roxana Robinson

Renowned OKeeffe biographer Roxana Robinson will give a lecture entitled Georgia OKeeffe: Reading the Work as the Life. The illustrated talk on the artists life will take place at the St. Francis Auditorium. Admission to the lecture is $ 5, and free to Museum members. The acclaimed author and writer published the definitive biography Georgia OKeeffe: A Life in 1989. According to Publishers Weekly it was the first book on OKeeffe to draw on sources unavailable during OKeeffes lifetime, and the first to be granted her familys cooperation[it] offers a persuasive feminist analysis of the life and work of an iconic figure in American art.
November 17, 7 PM: Jazz Concert, Celebrating Georgia OKeeffe

Jazz it up in recognition of Georgias 125th birthday celebration with multi-Grammy nominee, singer/pianist, Karrin Allyson at La Posada Resort Hotel and Spa, Ballroom. Tickets are $ 35 per person/$ 75 Supporters & Friends. Price includes birthday cake, a bubbly birthday toast, and free valet parking. Tickets available through the Lensic Performing Arts Center at 505-988-1234 or online at http://www.ticketssantafe.org.
Karrin Allison is a four-time Grammy Award nominee who has 13 recordings to her credits, including her most recent 2011 release: Round Midnight. A recording artist on the prestigious Concord Records label, the Kansas City, this New York-based singer was also nominated as 2012 female Jazz Singer of the Year by the Jazz Journal Association. The event is produced in collaboration with Friends of Santa Fe Jazz. All proceeds benefit the Georgia OKeeffe Museum.
November 17, 1-4 PM: Free Family Birthday Party at the Georgia OKeeffe Museum

Celebrate Georgia OKeeffes birthday will your family with hands-on art activities inspired by the works of OKeeffe. Make OKeeffe related party hats, create a piece of art at a painting table, make a whirli-gig with images relating to OKeeffe In New Mexico and New York, plus incorporate a selected quote into a unique piece of art. Enjoy birthday party refreshments.at the Museums Education Annex, 123 Grant Avenue. Free. No reservation required.
ABOUT THE GEORGIA OKEEFFE MUSEUM:

The Georgia O'Keeffe Museum is dedicated to the artistic legacy of Georgia O'Keeffe, to defining its ongoing significance, and to the study and interpretation of American Modernism, late 19th century to the present. The Museum's collections, historic properties, exhibitions, Research Center, publications, and education programs contribute to scholarly discourse and inspire diverse audiences. Located in Santa Fe, NM, the Museums collections, exhibits, research center, publications and education programs contribute to scholarly discourse and serve diverse audiences. The largest single repository of the artists work in the world, it is the only museum in the world dedicated to an internationally known American woman artist and is the most visited art museum in New Mexico.