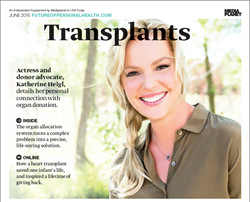 New York, NY (PRWEB) June 05, 2015
Mediaplanet today announces distribution of its latest cross-platform edition of Transplants, encouraging and inspiring readers to sign up to be organ donors while also educating them on the organ donation process. With a growing transplant waitlist, there has never been a more pressing need to put an end to disincentives for living donors.
The print component of Transplants is distributed within this weekends edition of USA Today in New York, Chicago, Kansas City, Denver, Washington, Baltimore, Philadelphia, Pittsburgh, Cleveland and San Francisco, with a circulation of approximately 450,000 copies and an estimated readership of 1.3 million. The digital component is distributed nationally, through a vast social media strategy, and across a network of top news sites and partner outlets. To explore the digital version of the campaign, click here.
In an exclusive interview with donor advocate Katherine Heigl, readers are urged to consider organ donation and speak with their family regarding their wishes well before dealing with tragedy. Heigl stresses, All anyone needs to do to be convinced that this is right is to talk to a family whose loved one is waiting for an organ to survive.
This campaign was made possible with the support of Katherine Heigl, Amy Purdy, Novartis, United Network for Organ Sharing, Porter Adventist Hospital, American Society of Transplantation, Mended Little Hearts, University of Kansas Medical Center, University of Maryland Medical Center, UW Health, Gift of Life and many more.
About Mediaplanet
Mediaplanet is the leading independent publisher of content-marketing campaigns covering a variety of topics and industries. We turn consumer interest into action by providing readers with motivational editorial, pairing it with relevant advertisers and distributing it within top newspapers and online platforms around the world.
Press Contact:

Kelsey MacArthur

kelsey(dot)macarthur(at)mediaplanet(dot)com

646-922-1404