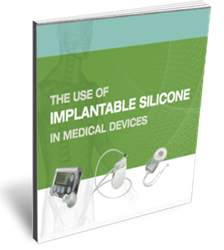 Chicago, IL (PRWEB) May 11, 2015
FMI, Inc. reports that the applications for implantable silicone continue to grow in both short- and long-term implantable medical devices. With its long track record of biocompatibility, medical-grade silicone is being used in a wide range of implantable devices with critical functions, such as defibrillators, heart pumps and surgical reconstructive components.
Medical device manufacturers are continually innovating, with more powerful technology packed into ever-smaller devices, which is particularly true for long-term implantable devices, explains Frank Sullivan, president of FMI, which specializes in ultra clean medical silicone molding. Silicones ability to be molded in any shape and even micro-molded into miniature parts allows it to be used in a variety of new devices.
According to market researchers, The Freedonia Group, U.S. demand for biocompatible materials is forecast to increase 4.9 percent annually to $ 5.6 billion in 2018. In its report, Biocompatible Materials, Freedonia forecasts, Engineered resins especially thermoplastic elastomer, silicone, sulfone, and polyketone materials will command the fastest revenue and volume growth based on quality and safety advantages in high value-added catheters and implants.
The biocompatibility of silicone is a real advantage for medical device manufacturers, as it has been tested extensively and proven safe for implantable devices that can function inside the body for a lifetime, says Harold Sant, vice president of Operations for FMI. Many device components can be redesigned with implantable silicone, replacing synthetic materials while maintaining the same functionality.
FMI has published an ebook for medical device manufacturers to describe the growing applications for silicone-molded parts in implantable devices. The ebook provides an overview of the characteristics of implantable silicone, its uses in medical devices, the compounding and molding processes involved, the science behind medical-grade silicone, and the overriding importance of patient safety.
Silicone that is used in implantable devices must go through rigorous testing. The type of medical-grade silicone used depends on whether the part will be used for short-term implantable devices (Class II – 29 days or less) or long-term implantable devices (Class III – 30 days to indefinite use). FMI estimates that implantable silicone represents only a fraction of the total amount of medical-grade silicone used in medical devices, but implantable silicone is critical for implantable devices.
Silicone molding is used to produce precision components by molding a complete implantable part, molding a component of an implantable device, or over-molding a part of the device or the exterior of the device. The ebook explains the different molding processes used as well as cleanroom manufacturing to ISO standards. The advantages of implantable silicone include its ability to provide insulation from electrical current; to protect sensitive components of an implantable device, such as pacemaker leads, from corrosive bodily fluids; and to offer flexibility and long-term durability for implantable devices that must conform to the body, such as catheters and shunts.
The ebook, entitled The Use of Implantable Silicone in Medical Devices, is available for free download.
ABOUT FMI MEDICAL SILICONE MOLDING

FMI is a leading supplier of medical-grade silicone components designed primarily for use in implantable Class II and Class III medical devices. Since 1989, FMI has been helping medical device manufacturers develop new products and expand their global market reach. FMI operates cleanroom facilities near the Chicago OHare International Airport and in Suzhou, China. Both facilities are ISO 13485-certified for medical devices with Class 5, 6 and 7 cleanrooms in the US and Class 7 cleanrooms in China. FMI is a wholly owned subsidiary of Flexan Corporation, which began operations in 1946 in Chicago and also has a facility in Suzhou, China, which opened in 2004.