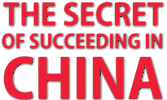 REDWOOD CITY, CA (PRWEB) September 10, 2012
The Helen Wang Group has launched a new program, The Secret of Succeeding in China," to help U.S. companies crack the China market. This one-day program, held at Hotel Sofitel, Redwood City, California on November 9th, 2012, combines strategic case studies with hands-on workshops to tackle one of the hardest questions facing U.S. companies: how to succeed in the worlds most populous country.
Chinas growing middle class has opened opportunities for companies not just to manufacture there but also to sell into its vast market. The Secret of Succeeding in China takes a deep look at why some companies succeeded in China while others failed, and how companies can re-brand and re-position their products and services for the Chinese market. The program also offers a trademarked Success Formula and workbook to guide attendees developing plans to succeed in China.
This is a very unique program, said Steve Mushero, founder and CEO of ChinaNetCloud, an Internet server management and cloud computing company based in Shanghai, China. While there are many conferences and seminars about China, there is no such program that gives people a concrete take-away that they can apply to their businesses.
The Secret of Succeeding in China is designed by Helen Wang, a consultant and expert on Chinas middle class. She is also the author of The Chinese Dream: The Rise of the Worlds Largest Middle Class and What It Means to You and founder of The Helen Wang Group. According to Wang, the Chinese middle class will reach 800 million by 2025, and China will surpass the United States to become the largest consumer market in the world.
Ms. Wang has a deep knowledge about China and a wide range of connections, said Dr. Chris DCouto, CEO of Neah Power Systems, a fuel cell technology company based in Seattle, Washington. She is very instrumental in helping us develop our China strategy.
We were very fortunate to have worked with Helen Wang on a variety of projects, said Avish Dahiya, co-founder and COO of DNA Global Network, an innovative management consulting firm based in San Jose, California. She is our go-to person for China related clients.
The Secret of Succeeding in China will be held on November 9th, 2012, at Hotel Sofitel, Redwood City, California. For more information, please visit http://thesecretofsucceedinginchina.com.
About The Helen Wang Group: The Helen Wang Group provides innovative training programs and strategic consulting for companies doing business in China. The founder Helen Wang is an award-winning author, consultant, and expert on China's middle class. Originally from China, Wang has lived in the United States for more than 20 years. After finishing her masters degree at Stanford University, she worked in Silicon Valley, holding a variety of jobs, from consultant to Fortune 500 companies to entrepreneur at Internet start-ups. A Forbes contributing columnist and sought-after speaker, Wang now divides her time between consulting for companies doing business in China and helping non-profit organizations make a difference.