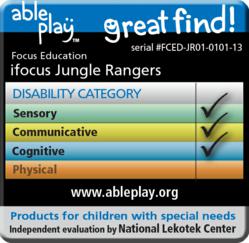 Los Angeles, CA (PRWEB) February 06, 2013
AblePlay awards The ifocus System with the AblePlay GreatFinds Seal for its sensory, communicative and cognitive growth capabilities.
The ifocus System by Focus Education received high scores in all three judging categories: Sensory, Communicative and Cognitive. As a recipient of the AblePlay GreatFinds Seal, The ifocus System is rated as a great product for children with disabilities falling under the three categories.
AblePlay challenges toymakers to create toys and games that are both educational and interesting for children with disabilities. As a division of the National Lekotek Center, AblePlay researches, rates and reviews products to provide children with disabilities access to the benefits of play experiences.
We share a belief with fellow parents that our children deserve the best to achieve the best, said Michael Apstein, CEO of Focus Education. We created The ifocus System recognizing that every child is different, with a range in abilities, and with different learning patterns. AblePlay recognizes the challenges that children can face and we are honored to be recognized by AblePlay with the GreatFinds Seal. AblePlays special needs orientation helped us challenge ourselves at Focus Education to provide the best educational tools for children to grow and learn.
Core to The ifocus System is the Jungle Rangers game. Consisting of multiple levels, the Jungle Rangers game is full of challenges to help children with cognitive training. These multiple levels have different characteristics that aid various areas of cognitive training, such as focus training, memory tests, and attention tasks.
With fun characters that help them build cognitive skills, The Jungle Rangers game and The ifocus System also helps children with disabilities under the following disability categories: 1) Sensory-Deaf or hard of hearing, Blind/Visual impairment, Sensory Processing Disorder, 2)CommunicativeAutism Spectrum Disorder, Speech/Language Delays, Stuttering, and 3) CognitiveDown Syndrome, Intellectual Delays, Fetal Alcohol Syndrome, Hydrocephalus, Attention Deficit/Hyperactivity Disorders, or Learning Disabilities. For more information about The ifocus System, please visit www(dot)focuseducation(dot)com.
About The ifocus System
The ifocus System is a Scientifically Designed and Tested Attention Training Program for children ages six to 12 to help them reach their full learning and neurological potential in the classroom and at home. The ifocus System was created by Michael Apstein and John Able, who wanted to help children achieve their full potential.
Unlike any other system available to parents, The ifocus System is a different approach to improving childrens attention, memory and focus. It centers around activities kids already love and draws from science, technology, nutrition, and exercise to create a fun and interactive way for children to improve their focus and attention. At the core of The ifocus System is Jungle Rangers, an interactive computer game that turns learning into a game. Researched and developed by a University Research and Application Pediatric Neuropsychologist, Jungle Rangers addresses brain executive functioning through cognitive training.
The ifocus System is the fun and affordable scientific way to help children learn how to filter, focus, absorb and remember. It helps children clear distractions, improve memory, absorb more information, and develop higher levels of focus and attention. Visit http://www.FocusEducation.com for more information.
About AblePlay
AblePlay is an online resource that provides comprehensive research, ratings, and reviews on toys and products that are a good fit for children of all abilities. AblePlay is a division of the National Lekotek Center, a not-for-profit organization dedicated to providing children who have disabilities access to the benefits of play experiences. Lekotek believes that toys and play can help children with special needs learn, develop and thrive in a world that presents them with many unique and complex challenges. Visit http://www.ableplay.org for more information.