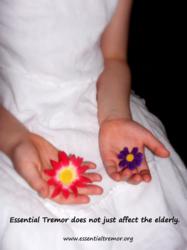 Lenexa, KS (PRWEB) June 06, 2013
The International Essential Tremor Foundation (IETF) will fund three essential tremor (ET) research grants totaling nearly $ 85,000 this year. Grant funding was provided to the IETF from its own members, people directly affected by this life-altering neurological condition.
The IETF and Board of Directors are pleased and excited to announce the funding of these ET research projects, says Catherine Rice, IETF Executive Director. This research is yet another step toward developing better treatment options for those with ET and, one day, finding the cause of the condition. Funding ET research now is critical in order to help the millions of people around the world with ET.
Erika Augustine, MD, University of Rochester, Rochester NY was awarded $ 25,000 for her proposal entitled, Clinical characteristics of essential tremor and enhanced physiological tremor in childhood. Dr. Augustine will work with children between the ages of 5 and 18, focusing on the similarities and differences between ET and Enhanced Physiological Tremor (ePT), another common form of tremor in children.
Carlo Menon, PhD, Simon Fraser University, Burnaby, BC, CANADA was fully funded with a $ 24,992 grant for his proposal entitled, An innovative damping exoskeleton approach to essential tremor treatment. This project explores a new assistive device for ET that utilizes state-of-the-art wearable robotics to suppress tremor symptoms.
Finally, a grant award in the amount of $ 35,000, for the second year in support of the project Essential Tremor Brain Bank at the Arizona Study of Aging and Neurodegenerative Disorders was awarded to Holly Shill, MD, Director, Christopher Center for Parkinson Research, Cleo Roberts Center for Clinical Research, and to Charles H. Adler, Co-PI and Clinical Core Director of the Arizona Parkinsons Disease Consortium (APDC) and Professor of Neurology, Mayo Clinic College of Medicine in Scottsdale, AZ. The researchers expect to find that those with ET have no greater risk of developing dementia or have cognitive impairment than the general public. They will also compare the clinical findings of early onset ET and ET beginning after age 65. The team will continue to examine the brain tissue of those with ET and other neurological disorders after death, searching for a greater understanding of how ET changes the features of the brain, and hopefully leading to more effective diagnostic tools.
Essential tremor, a neurological movement disorder commonly referred to as ET, affects nearly 10 million people in the U.S. alone. ET is very frequently misdiagnosed as Parkinsons disease. The condition is often characterized by rhythmic, involuntary and uncontrollable shaking of the hands and arms during movement, but it sometimes can also affect the head, voice, legs and trunk.
About the International Essential Tremor Foundation:

Headquartered in Lenexa, KS, and founded in 1988, the International Essential Tremor Foundation is the leading organization in the world dedicated to those affected by essential tremor. The mission of the IETF is to fund research that will find the cause of essential tremor and lead to better treatments and a cure, increase awareness about ET, and provide educational materials, tools and support to healthcare providers, the public, and those directly affected by ET.
The IETF has distributed more than $ 675,000 in research grants, to fund 27 promising studies, in the search for the cause of ET. The Foundation has hosted numerous community awareness events across the U.S. to provide those affected with the basic knowledge necessary to become their own advocate when seeking treatment. And, the IETF also provides assistance to a vast network of support groups around the world. To learn more about essential tremor and the IETF mission, visit the IETF website at http://www.essentialtremor.org.
For an interview or more information:

Catherine Rice, IETF Executive Director

crice(at)essentialtremor(dot)org

913.341.3880
# # #