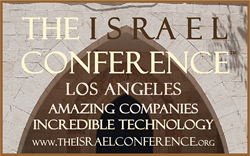 Los Angeles, CA (PRWEB) October 24, 2014
The Israel Conference today announced the launch of its first annual APPsolutely Award. The award recognizes outstanding APPs for their innovation, creativity, and market value. Excellent APPs will be selected to present to the full audience of nearly 700 business executives that will be attending the conference. One company will be awarded the APPsolutely! Award and be reviewed in PC Magazine.
The world of APPs is imagination in action! We are showcasing the best and most brilliant APPs coming out of the Israeli market, the most utilitarian, and the most engaging, those that are fun but not needed, and those that are easy to use and critical. We hope that APPsolutely! Award contestants and winners will be the recognized leaders in new APPs coming on the market, says co-Founder and co-Chair Sharona Justman who manages The Israel Conference in collaboration with co-Chair Yossi Vardi, who is considered the godfather of Israeli High Tech.
A panel of selected luminaries from the industry led by the co-Founder of Lighttricks Itai Tsiddon, publisher of Facetune, one of the most downloaded APPs, will cast their votes based on criteria including whether it was made in Israel, is ready for market, and fulfills a need. The audience will also have the opportunity to vote on the APP they think will become the next most talked about APP.
Interested participants can submit their APP for inclusion to the competition by visiting http://www.TheIsraelConference.org/ APPsolutely.php
The Israel Conference will play host to some of the hottest and most innovative APPs in todays marketplace.
APPS that make you more beautiful, remind you when to take that medicine, help you arrive on-time, measure emotion, and even tell you who to trust are all included in the lineup. Of note are:
ARTBIT, a new app that makes art more accessible, will be featured at the conference. Using a smartphone or smart glasses, users can point their device at any art exhibit and get additional layers of enriching interactive content. Their goal is to provide a quick and easy way to interact with art in a more accessible, informative and engaging way.
Another notable APP that will debut at the conference is INPLAY KINGS by IncrediPlay Ltd., the first intuitive and simple to use mobile social game. INPLAY KINGS provides American sports fans the opportunity to predict the outcome of games, as well as real-time In-Game predicting using fun credits. This has never been done before!
The Israel Conference offers a two-day experience of technology, design, and business with companies that are actively doing business in Israel and VCs that are actively funding companies. Attendees will have the rare opportunity to meet with CEOs and innovators who are making new markets sizzle with leading edge solutions and products.
The Israel Conference brings together top executives from businesses and Fortune 1000 firms to early-stage startups to attend this two-day event. Over 40% of attendees are founders and leaders of companies. Attendees will meet top executives from Google, Microsoft, Yahoo!, IBM, Intel, PayPal, Elbit, Fox Digital, ABC Studios, Electus, Warner Bros., NBC, WME, and Coca-Cola along with some of the most creative early-stage start-ups as well as many of the top VCs worldwide.
To get more information on the conference, please visit: http://www.theisraelconference.org
To register please visit: http://www.theisraelconference.org/register.php
To register as press please visit: http://theisraelconference.org/pressreg2014.php
This years sponsors include: Elbit Systems of America, LivePerson, KPMG, Bingham McCutchen, Government of Israel Economic Mission to the West Coast, OurCrowd, SodaStream, PowerMat, Fox Rothschild, STEP Strategy Advisors, Rubenstein / Justman Management Consultants, Steptoe & Johnson, Credo, and Blumberg Capital.
For sponsorship opportunities please contact Paula Page at Paula@TheIsraelConference.org
About The Israel Conference:

The Israel Conference is a fast-paced business conference that brings together leading technology innovators and investors in High Tech / Media and Entertainment / Advertising / Mobile / eCommerce / Content / Gaming / Cloud / Security / Automotive / Clean Tech / Medical Tech / Consumer Products coming out of Israel that are market-making and in demand. Over 700 top business executives will attend on Thursday October 30 + Friday October 31, 2014 in Los Angeles to meet leaders of significant businesses that do business in Israel and investors in Israeli companies. Speakers represent the spirit of the inventiveness of the Israel market. Attendees gain an insiders understanding of the growth of both public and privately-held Israel-facing companies to increase business and investment opportunities. For more information please visit, http://www.theisraelconference.org, Tel: 310-445-5388. Follow us on social media @TheIsraelConf, #IsraelConf.