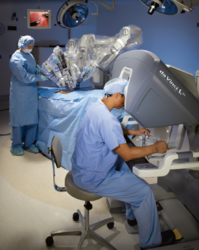 Jackson, TN (PRWEB) December 10, 2012
"We've always been on the cutting edge of advancements, and it's exciting to see more minimally invasive techniques become available," says Harvey Harmon, MD, a board-certified surgeon with The Jackson Clinic since 1984. "We're known for handling very complex procedures- and for keeping pace with the most advanced surgeries offered anywhere in the country."
The Jackson Clinic's highly skilled surgeons were among the first to pioneer laparoscopy, which utilizes a slender, camera-tipped instrument to view inside the patient through a small incision, and is commonly used for hysterectomies. The Jackson Clinic also specializes in other minimally invasive procedures such as endovascular surgery and women's incontinence surgery. These approaches offer benefits such as less scarring and more rapid recovery than traditional methods.
With years of laparoscopic expertise to their credit, the surgeons of The Jackson Clinic are now raising the bar on minimally invasive surgical care with the da Vinci Surgical System. The system is equipped with small, nimble instruments that are controlled by the surgeon using a high-definition 3D screen for extreme precision.
"Robotic-assisted surgery carries the benefits of laparoscopic surgery one step further," comments Dr. Harmon. "Visualization is greatly improved, and there is dramatically less blood loss, internal trauma and scarring. The instruments' mobility is far greater than the human wrist. And, there is less fatigue for the surgeon, who is seated while controlling the robot."
Dr. Harmon was the first in Tennessee to perform robotic-assisted gallbladder removal using a single incision through the naval, which results in virtually no visible scarring. "It makes sense that patients experience less pain with just one incision as opposed to the standard four incisions, but I firmly believe there's also a psychological advantage. When patients look down and see no scarring or bruising, they feel better right away."
The benefits of minimally invasive and robotic-assisted surgery- less scarring, less blood loss, faster recovery- are offered in many specialties, including gynecological surgery, general surgery and urologic surgery.
The Jackson Clinic is a multispecialty group practice of over 120 physicians in 25 specialties and subspecialties. For more information visit jacksonclinic.com or call (731) 422-0330.