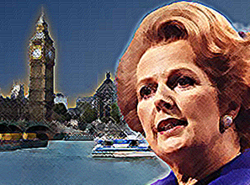 London, UK (PRWEB UK) 12 April 2013
For the generations Britons whove grown up in the shadow of Thatchers legacy its hard to imagine how different the UK was before she came to office. More than any other post-war Prime Minster Thatcher changed the fabric of British life, perhaps nowhere more so than in the world of personal finance which she affected in numerous ways.
Stocks & Shares

Before Thatcher came to power the stock market was the preserve of a financial savvy elite (just 7% of the UK population owned shares). Readers of the broadsheets might have some grasp of the comings and goings of The City, but these ivory towers were well beyond the understanding and interest of the common man. Privatisation changed that and by the end of the 1980s around 25% of adults had shares as an investment.
Mortgages (Right to Buy)

With the 1980 Housing Act, the Thatcher government turned the UK housing market on its head by offering tenants of council owned dwellings the right to purchase them from the state at a heavily discounted rate. The scheme was not without its critics, but it spurred on the UK mortgage market and increased owner occupied houses from 55% of dwelling to around over 70% by 2003.
Credit Cards

Thatcher tinkered with the UK tax system, reducing income tax whilst increasing VAT (from 8% to 15%). The additional money in their pockets gave the UK public the perception that they were better off. Hire purchase rules were relaxed and UK credit card use boomed. In fact, despite most people feeling wealthier, consumer borrowing actually tripled during the 1980s.
Pensions

Perhaps one of the least successful of Thatchers personal finance initiatives; towards the end of the 1980s the government introduced changes to the pension system to facilitate saving by individuals without a company scheme. It also allowed those who choose the ability to contract out of the established SERPS (State Earnings Related Pension Scheme). The intent from the government was clear, allow people to take responsibility of their own pension arrangements. Unfortunately mis-selling rocked the industry. Pushy personal pension salesmen cajoled people into switching out of their established schemes into riskier schemes. Compensating victims left the industry with a black mark against its name and a bill of around