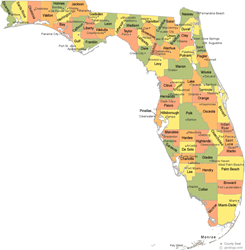 Palm Beach County, Florida (PRWEB) April 27, 2015
On Wednesday, April 29th at 2:00 PM EST, The National Tax Lien Association (NTLA) will be hosting a live Webinar with Lisa Cullen, President of the Florida Tax Collectors Association and Dave Dering of Grant Street Group, an online auction vendor. You can register for the webinar at https://2e9299.campgn5.com/Register-for-the-Webinar
Are you looking to learn how to buy Florida Tax Certificates? The State of Florida allows its 67 counties to sell the tax obligations to private investors.
From May 15 to June 1, 2015 over $ 1 billion in Florida delinquent property taxes will be sold to investors. "This is a wonderful opportunity for investors to learn each county's rules for registering and bidding" said Brad Westover, Executive Director of the NTLA. The revenue collected allows Florida counties to fund vital services such as public schools, police-fire services, parks and recreation.
In addition to learning how to participate in this year's tax certificate sales, attendees will also learn what happened at last year's sales. What properties sold? What interest rates? How many bidders were attending? What sales are live and which are on-line auctions?
Space is Limited!

Click Here to Register
For More Information Contact:

National Tax Lien Association

t: (561) 449-2484

info(at)thentla(dot)com

http://www.thentla.com
About the National Tax Lien Association

The National Tax Lien Association (NTLA), founded in 1997, is a nonprofit professional trade organization whose mission is to advance the legislative, regulatory, business, public relations, and educational interests of the tax lien industry. The NTLA upholds the highest standards of ethical conduct and operates in accordance with all applicable federal and state laws. http://www.thentla.com