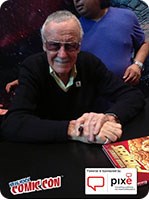 Columbia, MD (PRWEB) October 17, 2013
More than 3,800 (thirty eight hundred) photos were taken at the iPad-based photo booths and shared in real-time by the event participants on the NYCC Pixe Photo Booth Facebook Page over four days at the event.
Fans and attendees are continuing the conversation on social media by sharing, tagging and commenting on the photos.
Pixe will be giving away an iPad Mini to the participant who gets the most likes for their photos by October 21, 2013. The name of the winner will be announced on Pixes website on October 25, 2013.
About Pixe
Pixe LLC is a Maryland-based start-up providing turnkey social marketing solutions that is on a mission to take the challenge out of social media marketing by converting audiences into brand ambassadors.
Launched in April 2013, Pixe Social has powered photo booths for a number of leading brands including Cracker Barrel, Porsche Club of America and Six Flags Magic Kingdom.