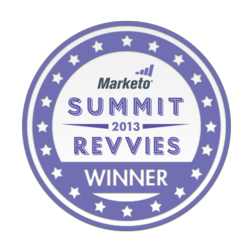 (PRWEB) April 11, 2013
The Pedowitz Group(TPG), the Revenue Marketing Agency, won the Revvie Award for Partner Excellence at the 2013 Marketo Summit for the second consecutive year. Held on April 10th in San Francisco, the Revvie Awards, "recognize and celebrate customers and partners that are using Marketo to push outside the bounds of existing markets and away from their competition." In addition to winning the Partner Excellence Award, six Pedowitz Group customers and partners also received Revvie Awards, including:
Most Dramatic Business Impact: Crain Business Insurance

Social Media Marketing Maven: Deluxe Corporation

Most Visionary Executive: Angela Hills at Pinstripe

Most Impactful Use of Marketing Metrics: RelayHealth

Most Dramatic Career Growth: Adam Waterson of Planon Software
The Revvies winners are thought-leading organizations that are successfully tapping into the power of the Marketing Nation to shake up their industries and change the world, said Sanjay Dholakia, CMO at Marketo. Through their cutting-edge uses of Marketo and innovative engagement with our vast community, partners, and services, they are rising above the completion and executing at the speed and level of the best marketers in the world. Congratulations to all of our winners.
See complete list of 2013 Revvie Award Winners.
We are extremely proud to be a part of these success stories for our clients. The results that they have achieved using Marketo and the principles of Revenue Marketing are nothing short of amazing, and to see their efforts recognized today at the Summit was a great moment," said The Pedowitz Group CEO and President, Jeff Pedowitz.
Winning the Partner Excellence Revvie award underscores The Pedowitz Group's continuing commitment to its relationship with Marketo and its customers, and the company's presence at the Marketo Summit reflected it: numerous customer references, consultants, and Marketo University Instructors contributed content and expertise to the Summit. As part of TPGs commitment to providing expert Marketo services, 44 TPG consultants have been certified through the Marketo Certified Consultant program.
About The Pedowitz Group Connecting Marketing to Revenue

The Pedowitz Group, an Inc. 500 company, is the worlds largest full-service Revenue Marketing Agency. A two time Pacesetter winner, The Pedowitz Group helps global clients transform their marketing organizations from cost centers to revenue centers by assessing and optimizing six controls: strategy, people, process, technology, content and results. As the authority on Revenue Marketing Transformation, the company has helped over 1,000 clients begin the journey to driving predictable, repeatable and scalable revenue results. The Pedowitz Group customers have won over 20 nationally recognized awards for their Revenue Marketing excellence. For more information on how The Pedowitz Group helps clients become successful Revenue Marketers