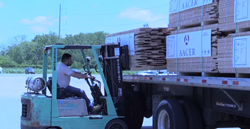 Conshohocken, PA (PRWEB) June 19, 2015
Philadelphia Floor Store (PFS), a leading hardwood flooring supplier, suffered a devastating fire on May 17th that completely destroyed their offices and warehouse in Conshohocken, PA. The company announced last week that they have resumed delivery services to the local tri-state area (PA, NJ, DE). On-line ordering and nation-wide shipping are scheduled to resume in July.
"Make no mistake, the Floor Store is still in business," said Mike Glavin, owner and founder of PFS. "Weve hardly let the fire slow us down. In fact, weve worked harder than ever to rebuild and make sure our customers continue to receive the service they've come to expect from PFS," continued Glavin. To view the company's latest video on the rebuild effort, click here.
Philly Floor has stocked their temporary warehouse with products from all the major manufacturers, including 3M, Aacer, Basic Coatings, Bona, Bostik, Century, DuraSeal, Lenmar, Norton, Padco, Pennwood, PoloPlaz, Primatech, Proteam, Woodwise, and Zinsser. Local customers are being instructed to call in orders to 800-737-1786. Counter sales and on-line ordering remain suspended at this time.
The hardwood floor distributor also has a number of machines in stock, and can ship a variety of machines and parts nation-wide In fact, Philly Floor has shipped out several sanders since the fire and is currently at work on a new gym floor rider.
"Were not yet operating at the same capacity as we were before the fire, but the PFS team is doing whatever it takes to keep our customers happy – whether that means making longer deliveries or working into the night to coordinate orders," said Joe Glavin, national sales manager and co-owner of Philly Floor.
For additional information and updates on the Philly Floor rebuild, visit the company's Blog, Twitter, and Facebook accounts.
About Philadelphia Floor Store
PFS is a leading provider of unfinished and prefinished hardwood flooring and accessories including stains, finishes, abrasives, flooring tools, and sanding equipment. Family owned and operated, PFS has been serving hardwood flooring contractors for more than 20 years and provides the expertise needed to install and maintain hardwood floors. The company offers all the top name manufactures including, Aacer, Century, Norton, Lagler, 3M, Clarke, Bona, Basic, Primatech, Bostick, and more.
The companys in-house resources include a top-ranked Machine Repair Center, Rental Center, In-house Chemist, and Gym Floor and Wood Floor Consultants. PFS educates customers via personalized service, online training materials, videos, and free events.
For media inquiries, contact Caran Baxter at caran(dot)baxter(at)phillyfloor(dot)com or call 610-940-5757.