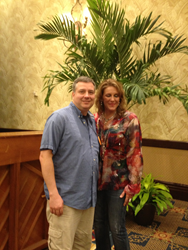 Pittsburgh, PA (PRWEB) August 15, 2014
Direct mail guru Kathy Kennebrook will be the keynote speaker at the August 19th meeting of the Pittsburgh Real Estate Investors Association. Kathy will be sharing her secrets for finding herds of motivated sellers.
Kathy Kennebrook is known as the marketing magic lady. She has created a series of direct mail pieces that speak to a variety of market demographics. What Kathy does better than her competition is that she speaks directly to the need of her sellers. She uses targeted mailing lists and then offers solutions to the problems of that targeted group. Her approach has led to a national following and a substantial annual income. In the modern era, internet marketing gets all the attention, but a number of successful real estate investors have learned how to use direct mail and the United States Post Office to find the best deals. Kathy will be sharing her secrets of direct mail marketing with all those who attend the August meeting of the Pittsburgh Real Estate Investors Association.
The Pittsburgh Real Estate Investors Association is a club dedicated to providing educational opportunities for people who wish to use real estate investing as a vehicle for financial freedom. The club meets every third Tuesday of the month between 7 P.M. and 9 P.M. The monthly meetings are held at the Greater Pittsburgh Masonic Center in Ross Township. The address of the Greater Pittsburgh Masonic Center is 3579 Masonic Way, Pittsburgh PA 15237. First time guests are welcome to come for free as a guest of the club. This presentation is appropriate for real estate investors of all experience levels as well as entrepreneurs who wish to gain market share through direct mail marketing.
Taken from the official biography of Kathy Kennebrook; Kathy Kennebrook is the ultimate success story. She spent 12 years in the banking industry and another ten in sales logging thousands of miles each year in order to make a living before discovering the world of real estate. After attending some real estate seminars and club meetings this 4 foot 11 mother of two got really excited and turned on and before you know it she had bought and sold over 250 single family houses using none of her own money or credit.
Kathy holds a degree in accounting and co-authored the book Walking With the Wise Real Estate Investor which also includes real experts Donald Trump, Suze Orman and Ron LeGrand. She developed a direct mail system that drives in motivated sellers by the herds begging her to buy their properties. She is the nations leading expert at finding motivated sellers using many types of direct mail marketing. She is known throughout the United States and Canada as the Marketing Magic Lady. She has put together a simple step-by- step system that anyone can follow to duplicate her success.
Kathy Kennebrook is also a noted author with a new book coming out soon co-written with Josh Caldwell of the Pittsburgh Real Estate Investors Association. This book is a compilation of the thoughts of some of todays best known real estate minds. For more information on Kathys next book or her appearance in Pittsburgh, just email Josh Caldwell at PittsburghREIA(at)aol(dot)com.