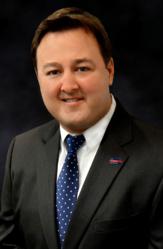 Fairview Park, Ohio (PRWEB) December 20, 2012
The Reserves Network will have a new generation of leadership beginning in 2013 as Neil Stallard takes over as CEO for the staffing corporation, which serves the office, industrial, professional and technical markets.
Neil Stallard assumes the post on Jan. 1, following his father Don, who will stay with the company as chairman. Amy Gerrity will remain as president.
Neil holds a deep commitment to The Reserves Networks founding values of quality, reliability and integrity, which he has demonstrated throughout his career, said Don Stallard in a statement. Under his vision and leadership, he will drive our diversification, growth and profitability objectives. Its an exciting time for our company as we move to the forefront of the staffing industry.
Neil Stallard began his career with the company in a full-time capacity in 1991. He most recently held the position of executive vice president, COO, to which he was appointed in 2007. Previous roles he has held within the company include regional vice president, director of quality management and accounting manager. In addition, he has served as sales & project manager for The Reserves Networks affiliate information technology division, The FocIS Group, as well as a professional recruiter for the companys Professional Search Group.
As CEO, he will be responsible for all day-to-day operations of the company as well as the development and fulfillment of the companys strategic goals.
This is a tremendous honor and a great responsibility, said Neil Stallard in a statement. I am fortunate to be surrounded with incredibly smart, dedicated and hard-working people – all committed to providing a great customer experience. We will continue TRNs history of growth and industry leadership. The companys culture and Dons legacy has made us who we are, and those values will endure to guide us into the future.
The Reserves Network was founded by Don Stallard in 1984, and is headquartered in Fairview Park, Ohio. The provider of 'Total Staffing Solutions' has won multiple honors for outstanding sales growth and management excellence. System-wide, the company expects to place nearly 20,000 employees annually at its more than 35 office locations in Ohio, Georgia, Florida, Kentucky, Illinois, Indiana, North Carolina, Pennsylvania and Wisconsin. This includes temporary, temporary-to-hire and direct-hire placements.