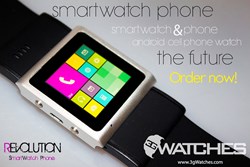 Owensboro, Kentucky (PRWEB) November 22, 2013
3G Watches today introduced The REVOLUTION SmartWatch Phone, the fusion of smartwatch and smartphone. The REVOLUTION runs Android 4.0 and operates as a standalone smartwatch via a micro SIM card. This innovative device integrates the smartphone experience into a stylish watch allowing access to the Google Play store, for downloading apps, and the ability to make calls directly from ones wrist! Smartwatch phone technology now let's users experience Google on their wrist over 3G or WiFi networks keeping them connected while feeling amazingly free completing daily tasks.
Slated to go head to head with the Samsung Galaxy Gear and the Apple smartwatch, the REVOLUTION is more than a smartwatch! Individuals can view websites, send out tweets, and message friends on Facebook and other social media sites. They can do all of this and more on this incredible new smartwatch phone!
User can now enjoy all the features of their smartphone on a watch! Imagine the freedom of knowing you can send emails, listen to music, watch Youtube, make and receive calls without having to carry around a bulky phone. By tapping the wrist photos can be snapped via camera located on the side of the watch. Calls can be answered over the built-in speakerphone or pair with a Bluetooth earbud for more private conversations. During physical activities, such as running, users can listen to mp3's, use gps, and other apps with the ability to make calls incase of emergencies. Those with active lifestyles who make fitness a priority will love the fact that they can place the SIM out of their current phone into the REVOLUTION smartwatch phone and their phone number, voice, and data plan will be swapped right along with it into the smartwatch phone.
The REVOLUTION is available for order now for $ 295 usd on the 3G Watches website and begins shipping worldwide the first week of December, just in time for the Holidays! This cellular device is compatible with any GSM carrier worldwide like T-Mobile, AT&T, Straight Talk, and Simple Mobile here in the US.
3G Watches CEO, Brandon James, states "Wearable communication devices are projected to be a billion dollar industry and we are excited to be at the forefront, pioneering this revolutionizing industry worldwide!".
Visit http://www.3gwatches.com/revolution.html
Specs:
GSM 850/900/1800/1900

WCDMA 850/900/2100MHz

RAM 512m, ROM 4G

Display 1.54″, TFT, 240×240

Touchscreen

Speaker/Headphone (2 in 1)

Microphone & Vibration Motor

2.0mp Camera

Wifi, GPS, G-Sensor

Bluetooth, Mini USB port

GPRS, Music, Video

Voice Recording, SMS, MMS

Hands Free

41.9 x 47.5 x 13.5mm 72.0g