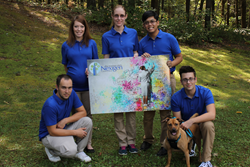 Mount Holly Springs, PA (PRWEB) October 01, 2014
The revolution has begun. Nexigen Capital boasts a new business model that provides both free and reduced price media resources to individuals and small to medium size businesses in North America.
Make history with Nexigen Capital to level the playing field for the everyday user. Nexigen Capital wants let the masses speak through the internet and online commerce. No longer will individuals and small to medium size businesses be bled dry for petty products and services. No longer will there be any need to spend hard earned capital to run a business or personal website. No longer will anyone be discouraged from achieving their dream because of financial obstacles. Contributions can be made by visiting the official GoFundMe Page.
Our model is bold and may be perceived as crazy, but if you think about it everyone will benefit; this is really not out of the realm of possibility. Nexigen Capital wants to start a revolution to inspire change in how business is done, and give everyone the opportunity to re-spark the American Dream and rebuild Small Town America," said Alex Dove, Director of Marketing and Development.
The revolution has begun and the first strike occurs on 01.05.2015. Contributions can be made by visiting Nexigen Capitals GoFundMe Page and to share the spirit of change via Facebook and Twitter.
The Laymans Breakdown
Nexigen Capital will provide for the life of an account, free comprehensive business and e-commerce web hosting for websites, blogs and online projects. In addition Nexigen Capital will offer unlimited everything resources and the guarantee that websites will not be crowded on any of the companys servers at any time.
Nexigen Capital will also provide at no cost an open source enhanced e-commerce platform with robust and powerful features, limited setup for the website or blog, fine tuning for optimal account operation, a top level or secondary domain name, domain renewals and transfers to our company, premium website templates and themes, a dedicated IP address and a SSL domain validated certificate to give clients piece of mind.
Nexigen Capitals no cost business tools and services include business plan consulting and writing, press release composition, entity creation assistance and other business related services.
Starter items include business cards and marketing collateral, e-commerce plugins to enhance your sites online store and as Nexigen Capital receives funding, additional no cost services.
In conjunction with all the anchor services above, Nexigen Capital will offer add-ons at low cost including additional domain names and IP addresses, a variety of additional SSL certificates, marketing and development services, SEO and PPC services, certain premium website templates and themes, website or online project management, boutique plugins, and any website design services and business tools not outlined above.
Nexigen Capital is able to provide these services by collectively leveraging powerful and robust open source platforms with the power in community and numbers to obtain licensing for mass distribution at severely reduced costs to the consumer as well as the company itself. Nexigen Capital relies on philanthropic resources and contributors to continue business as-is.
Stephanie Rock, Director of Media Logistics sounded in when the company released its fundraising campaign, Nexigen Capital needs your support to become the largest public funded business that has major social impact and heightens presentation standards of business products and services. Contributions can be made by visiting the official campaign GoFundMe page.
Company Name: Nexigen Capital
Registration: Nexigen Capital was formed as a General Partnership in the Commonwealth of Pennsylvania; the company's registration entity id is 4292216.
Founders: Nexigen Capital was founded in 2014 by Alex Dove – Director of Marketing and Development, Omeca Flohr – Director of Systems and Technology, Kate Lautenbach – Director of Automation, Stephanie Rock – Director of Media Logistics, David Gregory – Director of Building and On-Site Network Security and Toshi Dove-Flohr – Director of Snacks.
Questions, comments and concerns are encourage; they can be directed to:

Alex Dove | alex.dove(at)nexigencapital(dot)com

717-462-5278

Stephanie Rock | stephanie.rock(at)nexigencapital(dot)com

717-462-5278
Website: https://nexigencapital.com

GoFundMe: http://www.gofundme.com/nexigen-capital