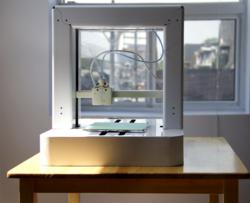 Toronto, ON (PRWEB) October 04, 2012
Panda Robotics introduces the PandaBot Home 3D Printer, a truly affordable, accessible and elegant 3D printer. Designed for the desktop of an architect, artist, student, parent, and teacher this is cutting edge technology built for everyday life.
The PandaBot, is the first 3D printer that you will actually want on your desk or in your house, said Kelly John Rose, CEO of Panda Robotics. Were breaking new ground in print automation, robustness and size. Its architecturally inspired design is truly beautiful and at $ 800, is priced to inspire a new generation of creativity. All this means that the revolutionary now comes with the ease of use of the everyday.
The PandaBot, which is featured in todays Financial Post, can be found at:

http://www.kickstarter.com/projects/pandarobotics/pandabot-a-friendly-affordable-3d-printer
Rose also announced other breakthrough innovations for the PandaBot, including a capacitive sensing build bed to allow for automatic calibration, a 2 piece assembly that quickly snaps together, and a fully custom software package to create the first 3D printer queue.
Starting at just $ 800, this innovative machine will change the home offices, classrooms and studios of people around the world.
WHATS NEW WITH PANDABOT HOME 3D PRINTER