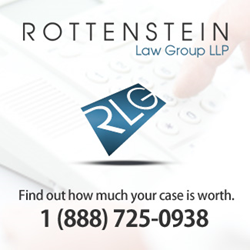 Rockville Centre, NY (PRWEB) June 27, 2014
The Rottenstein Law Group LLP is currently representing plaintiffs with claims stemming from injuries allegedly caused by DePuy Pinnacle metal-on-metal hip replacement devices. As cases consolidated in a federal multidistrict litigation (In re: DePuy Orthopaedics Inc. Pinnacle Hip Implant Product Liability Litigation, MDL No. 2244) move towards trial, a group of plaintiffs has requested that witnesses be permitted to testify via satellite.
According to a motion filed on June 17, 2014, plaintiffs counsel requested that certain witnesses be allowed to give testimony during trials via satellite transmission originating outside the Texas court, due to concerns that certain witnesses might not be produced by the defendants. Moreover, the plaintiffs feel the satellite testimonies are appropriate because the U.S. District Court for the Northern District of Texas in Dallas is not their chosen location for the proceedings. So far, defense counsel has not made good on commitments to produce the witnesses the plaintiffs have requested testimony from.
Our firm represents a number of DePuy Pinnacle plaintiffs, so we are concerned about how pretrial matters are being handled, said Rochelle Rottenstein, principal of the Rottenstein Law Group. Our goal is to ensure that anyone harmed by a DePuy Pinnacle hip implant receives the compensation they deserve."
The Rottenstein Law Group LLP maintains a Web site where users can obtain valuable information about the dangers of metal-on-metal hip replacement implants, and research the process of how to go about filing a lawsuit against the medical device manufacturers that sold these dangerous devices. The site, http://www.hipimplantinjury.com, contains information about dangerous hip implants sold by various manufacturers, with a page, http://www.hipimplantinjury.com/depuy-pinnacle-acetabular-cup-system/, dedicated specifically to DePuy Pinnacle hip replacement devices. Individuals who feel they have cause to sue DePuy Orthopaedics, or another manufacturer, can fill out the no-cost, confidential claim evaluation form to determine whether or not they have a case.
ABOUT THE ROTTENSTEIN LAW GROUP LLP

The Rottenstein Law Group LLP is a New York-based firm that represents clients nationwide in mass tort actions. The firm was founded by Rochelle Rottenstein, who has more than two decades of experience as a lawyer, to represent clients hurt by defective medical devices and medications. (Attorney advertising. Prior results do not guarantee a similar outcome.)
Contact:

The Rottenstein Law Group LLP

Rochelle Rottenstein, Esq.

100 Merrick Road

Suite 226W

Rockville Centre, NY 11570

(212) 933-9500 (office phone)

(212) 933-9980 (facsimile)

rochelle (at) rotlaw (dot) com

plus.google.com/106070664376281033016