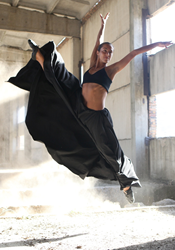 San Francisco, California (PRWEB) March 25, 2015
The 2015 San Francisco International Arts Festival (SFIAF) will double in size when it debuts May 21 through June 7 at Ft. Mason Center, growing from 4 to 8 venues, and hosting 150 dance, music and theatre performances by more than 60 critically acclaimed artists from the Bay Area and from 16 countries around the world. For the first time, the festival will offer free bus shuttles from the Embarcadero, Civic Center, and 24th Street MUNI/BART stations for attendees as a result of a new partnership between SFIAF and Ft. Mason Center. The full lineup of 2015 SFAIF performance artists and $ 12 discounted general admission tickets are available at http://www.sfiaf.org/calendar_2015, or by calling Brown Paper Tickets event concierges at 1-800-838-3006, for the first 10 percent sold through March 31, while supplies last.
We are thrilled to be presenting world-class international artists who do not have U.S. representation, and whose work will be presented to U.S. audiences for the very first time at our festival, said Andrew Wood, executive director of the SFIAF. "We are able to offer this caliber of talent and artistry for $ 12 for a limited number of general admission tickets as a result of partnerships forged between the artists, the countries they represent, our presentation venue and festival organizers, demonstrating our core values of cultural and economic equality and the connection between artists and audiences above making the highest profit."
The SFIAF 2015 theme, "Bearing Witness," will be reflected in the performances of Teatr Zar, the resident company of the Grotowski Institute from Wroclaw, Poland. The SFIAF is proud to bring the U.S. premiere of their powerful new production "Armine, Sister" to the Bay Area, before it's highly-anticipated debut in New York City. "Armine, Sister" depicts the phenomena of 1915 that become known as the Armenian Genocide, on the 100th anniversary year of the event.
Other leading international artists include the U.S. debut of Fabrice Murqia of Belgium, one of the most talked-about and provocative theatre artists in Europe. Murgai will lead his Compagnie Artara to the Bay with a fascinating French language performance piece titled Les Chagrin des Ogres (The Sorrow of the Ogres) that poses questions about the passage to adulthood and societys views about, and treatment of, teenagers.
The Republic of Ireland is represented for the first time at SFIAF by two different projects with the U.S. debut of a brilliant young theatre artist named