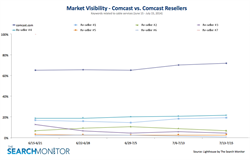 Orlando, FL (PRWEB) August 28, 2014
The Search Monitor today released its monthly search engine marketing snapshot of the Cable Providers sub-sector of its Telecom vertical. The company focused its analysis on the complex search advertising relationship between two industry giants–Comcast and Charter Communications–and their many re-sellers.
Cable companies rely heavily on authorized re-sellers to provide service information as well as offers and promotions on behalf of their cable giant partners. This relationship can be seen by searching for [your cable provider's name] + [your metro area] + "specials".
For example, a search for 'Colorado Comcast Specials' reveals that the search engine results page (SERP) is a combination of a branded ad from Comcast in first position followed by ads from its re-sellers.
While it is a common practice in telecom for searchers to see company and re-seller ads together, its a complex and carefully orchestrated relationship. Both parties need to agree upon campaign details such as which keywords to bid on, what ranks are off-limits for re-sellers (if any), what the copy should say, and where the links should go.
Analysis Performed
The Search Monitor used its ad monitoring technology to perform the following analysis for the report.