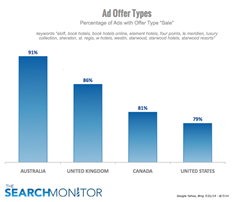 Orlando, FL (PRWEB) September 30, 2014
The Search Monitor, the leader in precision ad intelligence for marketers and affiliate managers, today released its monthly search engine marketing snapshot for the travel vertical.
The monthly analysis focused on the important travel industry topic of geo-targeting in SEM, looking specifically at a large global advertiser, Starwood Hotels. The goal of the analysis was to see how Starwood adjusts its PPC marketing for its different global markets.
Analysis Performed