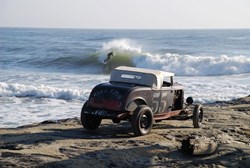 New York, NY (PRWEB) October 01, 2013
The Oilers Car Club brings beachfront thrills back to the Jersey Shore with The 2nd Annual Race Of Gentlemen, October 5th & 6th, 2013, in Wildwood, NJ. A homage to days gone by, The Race of Gentlemen is an experience where hand-built, modified pre-WWII cars and motorcycles race horn-to-horn, trailing rooster tails of sand and saltwater on a 1/8-mile sandy straightaway along the waters edge. The site of this years race on the beach in front of Moreys Pier was chosen for its hard-packed sand that is an ideal, and safe, proving ground. A select group of men will battle for pole position running mechanical wonders such as the 1907 dual chain-drive Panhard, the 1911 Indian, the 1911 Harley-Davidson and many other fine machines from all across North America. To kick off The Race Of Gentlemen, StarLux Hotel will host a pre-race pool party beginning at 5 PM on Friday, October 4th, 2013, featuring a car & bike show outside with food, drinks and live rock & roll.
My vision was for a race much like you would have seen in 1910 or 20: people dressed up, with picnic baskets and good booze, waiting to see a machine at its top speed pass before them on a wide open beach, explains Mel Stultz, of the Oilers Car Club and founder of The Race Of Gentlemen. My race is an art project of sorts, continues Mel, and Ive always been in love with pictures of the early days of men testing their new machines on the wide open beaches. Mel finished saying, the vintage motorcycle guy or gal is a whole different breed of person. When mixed with a vintage auto person, you get a nice crowd of people who share a type of romance with these old machines and their glory days When those early cars reach that beach and start to roll in, its like a sweet dream. They look so at home rolling across that hard-packed sand.
Not just for vintage auto and cycle aficionados, The Race of Gentlemen will feature live rock & roll, food & drinks and a vendor village on the beach filled with hot rod garb from across the country like threads designed by Los Angeles-based Rising Sun Jeans and car culture and pin-up artwork by Keith Weesner for enthusiasts of all ages to enjoy. On Saturday evening, The Race Of Gentlemen will also host a beach party bonfire featuring live rock & roll from the Swingin Neckbreakers..
The Race Of Gentlemen sponsored by Harley-Davidson of Long Branch, Atlantic County Harley-Davidson and Sailor Jerry Rum, will run along the waters edge in Wildwood, NJ, on Saturday, October 5th & Sunday, October 6th, 2013, from 10 AM 5 PM, each day. For anyone unable to attend The Race Of Gentlemen but craving a taste of the action, there will be a Live Feed Powered by Duck Tape