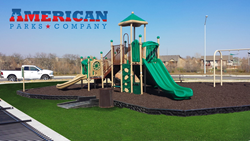 Andover, KS (PRWEB) April 28, 2015
Shadow Rock is a progressive community located in Andover, Kansas. The luxury lifestyle residences are located in close proximity to rich cultural activities and lifestyle amenities, including the Crestview Country Club, as well as fine dining and quality shopping destinations. Shadow Rock offers a beautiful housing development and tight-knit community, and they also offer a neighborhood park that is now complete with commercial playground equipment, thanks to the assistance of American Parks Company.
Located near the residential community are the shores of El Dorado Lake, which offer both public and private golf courses and clubs, and boating and fishing recreation. Nearby, a new 115,000 square foot YMCA offers state of the art fitness facilities, indoor pool, waterpark facilities, and educational classes and learning centers.
To further develop the recreational opportunities for its residents, the Shadow Rock Housing Development chose the Big Kahuna play structure from American Parks Company, which features fun group and independent play activities for up to 50 children ages 2 to 12 years old. By selecting a play structure suited for a wide age range, the Shadow Rock Housing Development saved on costs, eliminated the need for multiple structures suited for each age group, and were able to purchase more meaningful playground equipment for their community.
The Big Kahuna houses four unique slide components including a Curved Speedway Slide, a Double Speedway Slide, and two Single Speedway Slides. It is also home to a physically challenging Cliff Climber, which provides an alternative route to the top of the play deck. There is also a specially designed Apex Climbing Attachment, which offers a rock climbing experience modified to suit small children.
American Parks Company also helped Shadow Rock to select, purchase, and install a new single bay 5 inch diameter Arched Steel Swing Set, as well as multiple matching metal park benches and trash cans. These helped to create a complete outdoor neighborhood park for the housing development.
The Shadow Rock Housing Development now has a new, exciting playground that came just in time for spring. They are proud to continue to offer residents life-enriching outdoor amenities to supplement their luxury homes.
About American Parks Company
American Parks Company is a McKinney, Texas based company that provides commercial grade park and playground equipment primarily to municipalities, apartment communities, schools, churches, daycare facilities, and homeowner associations. Since 2004, American Parks Company has consistently provided high quality play structures at extremely affordable prices.
American Parks Company is an industry leader in both the national sales and installation of commercial playground equipment. For general information on American Parks Company, please call 1-800-381-4491 or visit http://www.AmericanParksCompany.com
For media inquiries contact Marc Parker Vice President of Marketing sm(at)americanparkscompany.com.
Corporate Address: 225 E. Virginia Pkwy, Suite 1, McKinney, Texas 75069.