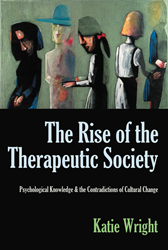 Victoria, Australia (PRWEB) April 30, 2015
In her new book, The Rise of the Therapeutic Society: Psychological Knowledge & the Contradictions of Cultural Change, Katie Wright takes Australia as the focal point and traces the ascendancy of therapeutic culture, from nineteenth century concerns about nervousness, to the growth of psychology, the diffusion of an analytic attitude and the spread of therapy and counseling. Wrights analysis, which draws on social theory, cultural history, and interviews with therapists and people in therapy, calls into question the pessimism that pervades many accounts of the therapeutic turn and provides an alternative assessment of its ramifications for social, political, and personal life in the globalized West.
Katie Wright lives in Victoria, Australia.
This is what specialists in the field say about the book:
Wright's work provides an important antidote to a long series of off-base polemics that misunderstand the role of psychotherapy in contemporary society. She finds the language of therapy at the heart of the new social movements. Jeffrey C. Alexander, Lillian Chavenson Saden Professor of Sociology, Yale University.
The strength of Wrights work lies in its emphasis on the complex, contradictory ways in which various aspects of our global worlds enter into the inner, emotional texture of identity as well as the processes through which the unconscious imagination constitutes fabrications of the social-historical world. Anthony Elliott, Chair of Sociology, Flinders University, Australia.
This work makes an important contribution to cultural and historical sociology. Wright argues convincingly for a reappraisal of therapeutic culture through a compelling critique of existing theory and by drawing on alternative traditions to those that have dominated scholarship in this field. The case studies she presents are intrinsically interesting and theoretically important, and her innovative perspective on the therapeutic society makes a valuable and significant contribution to the field. Zlatko Skrbis, Dean, UQ Graduate School, The University of Queensland, Australia.
The Rise of the Therapeutic Society: Psychological Knowledge & the Contradictions of Cultural Change was published by New Academia Publishing/ VELLUM Books and was converted to eBook format by eBookIt.com.
Print edition – Washington, DC: New Academia Publishing, 2011

290 pages, 19 illustrations, ISBN 978-0-9832451-2-4, paperback, $ 26.00
About the Author

Katie Wright is an Australian Research Council Postdoctoral Fellow in the Melbourne Graduate School of Education at the University of Melbourne. She lives in Victoria, Australia.
About eBookIt.com

Since 2010, eBookIt.com (based in Sudbury, Massachusetts) has helped thousands of authors and publishers get their books converted to ebook format, and distributed to all the major ebook retailers, including Amazon.com, Barnesandnoble.com, Apple iBookstore, Kobo, Sony Readerstore, Ingram Digital, and Google eBookstore.
###