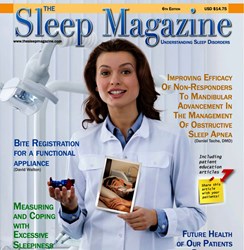 (PRWEB) June 28, 2013
Published by dental sleep medicine education company, Sleep Group Solutions, The Sleep Magazine is the only publication 100% dedicated to Dental Sleep Medicine (the dental treatment of snoring and sleep apnea). The annual journal is releasing their 6th issue which includes articles from leading dental sleep medicine experts including, Dr. Brock Rondeau, Dr. Daniel Tache, and Dr. Gregory Carnevale, a leading ENT in upstate New York. The 6th issue also includes, for the first time, patient friendly articles to raise awareness of sleep apnea and encourage diagnosis and treatment.
As reported in many mainstream magazines such as US News and World Report, Time, and Newsweek – the American society's lack of healthy sleep is taking over large percentages of the population. This awareness is causing widespread concern within the medical and dental community, and more dentists are stepping up to offer treatment to those who suffer. The Sleep Magazine provides dental professionals with up to date technology, protocols, and techniques used in the treatment of snoring and sleep apnea. Dr. Barry Freydberg, a contributing writer for the Sleep Magazine, and a dental sleep medicine expert says, "In my articles, I try to focus on topics which empower the dental office to measure success, fully understand OSA and all it entails, and also topics which help stay current." Other related articles focus on home sleep testing, sleep apnea advocacy, patient education, and detailed case reviews with step-by-step treatment plans and case summaries.
Dentists often revert back to previous issues of the Sleep Magazine to research cases and protocols ranging from oral appliance therapy and CPAP intolerance, to home sleep testing and pharyngometry. "The Sleep Magazine is a great resource for dentists, hygienists, sleep labs and techs, and to some degree, physicians. The articles are written by wet finger dentists who are successfully treating patients, and raising awareness," says John Nadeau, VP of Sleep Group Solutions. The 6th issue includes detailed articles and case studies submitted by Dr. Michael Hnat, Dr. Jeffrey Horowitz, and Dr. George Jones – to list a few.
For dental professionals involved, or seeking more information on treating patients for Sleep Disordered Breathing, The Sleep Magazine is a popular pick for many offices looking to stay current, learn new techniques, and even register for dental continuing education courses. Please log onto TheSleepMagazine.com to view the latest issue, subscribe, and view past issues.
About The Sleep Magazine

The only publication 100% dedicated to Dental Sleep Medicine-the dental treatment of snoring and sleep apnea. The 6th issue is available to download, or view, at TheSleepMagazine.com.
About Sleep Group Solution

Sleep Group Solutions is an airway diagnostic technology company serving the needs of physicians and dentists interested in screening, diagnosing and treating sleep apnea and other upper airway disorders. Sleep Group Solutions offers the latest screening and diagnostic equipment solutions for patients with allergy, sinus congestion, rhinitis, deviated septum, nasal polyps, snoring and sleep apnea. SGS offers the most comprehensive dental sleep medicine CE seminars in the industry focused on teaching dentists the protocols needed to make the treatment of snoring and sleep apnea part of their practice. Sleep Group Solutions offers sleep study interpretation, oral appliances (Norad Boil & Bite, Respire), online directory 1800SleepLab.com and online marketing for CPAP Intolerant patients. SGS is the manufacturer of the Eccovision Systems Rhinometer and Pharyngometer, and offers Home Sleep Testing devices from Watermark Medical.