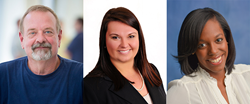 Cary, N.C. (PRWEB) November 20, 2014
The Special Event Company has announced the hiring of three new team members to its headquarters in Cary, NC. The ever-growing company welcomes Executive Producer, Wes Hardison, Business Manager, Sara Ellis, and Program Coordinator and Executive Assistant, Kamille Watson.
Wes Hardison
Wes Hardison brings more than 35 years of industry experience to his role as executive producer. In his role, he will contribute to the creative process and work to maximize clients return on investment through cost-effective coordination and execution of event production. Hardison has worked for 28 years as video producer for Capital Associated Industries, as editor and producer for Nortel Networks, and served as president at Spinnaker Group, Inc. Hardison holds a Bachelor of Arts degree in film and television production from the University of North Carolina at Chapel Hill.
Sara Ellis
Sara Ellis has a background in business policy and procedure and more than seven years of experience in the event industry, including two with The Special Event Company previously. Ellis will be responsible for preparing client and vendor contracts, maintaining and reconciling budgets, and developing program proposals. In addition to previous work with the company, she worked for four years in pharmaceutical meeting planning and nearly two years in charity events while travelling with the PGA Tour. Ellis holds a Bachelor of Arts degree in psychology from the University of North Carolina at Chapel Hill and is a native of Dunn, N.C.
Kamille Watson
Kamille Watson, a recent graduate of North Carolina State University, brings many years of event experience to her role as program coordinator and executive assistant. Watson will assist with program development, client and vendor meetings, and attendee registration. She holds a Bachelor of Arts degree in communication, with a concentration in public relations, and a minor in parks, recreation, and tourism management. She joins following two internships with the Hillsborough Street Community Service Corporation and Marbles Kids Museum. A native of Philadelphia, Pa., Watson is a member of the International Special Events Society (ISES), Greater Triangle.
QUOTES: I am delighted to welcome these three talented individuals to our team, said Sally Webb Berry, CSEP, CEO of The Special Event Company. I know that their experience, creativity, and dedication to the event industry will be great additions to our growing company. We have an exciting year ahead of us and I am happy to have them join.
ABOUT THE SPECIAL EVENT COMPANY: The Special Event Company (TSEC) has provided exceptional strategic and creative delivery of meetings and events since our formation in 1987. From our headquarters in Cary, N.C. and satellite offices in Newport Beach, Calif., London, and Sydney, the company executes global programs with seamless efficiency. We offer a turnkey service for site selection, planning, logistics, production and audio visual, transport, collateral and graphic design. Our team of professional planners will effectively budget, design, source, contract, and execute award-winning programs, which exceed clients goals and deliver excellent ROI. For more information, please visit http://www.specialeventco.com.
###