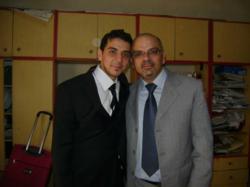 Washington, DC (PRWEB) December 20, 2012
It is with sadness that the Syrian Expatriates Organization learned of the detention of the brave Syrian activist Dr. Zaidoun Al-Zoabi 38, and his younger brother Souhaib Al-Zoabi, 22. Dr. Zaidoun and Sohaib were arrested by Syrian security forces on December 15, 2012, according to CNN. There was no reason given for cause of arrest.
SEE: Syrian Activist Arrested, http://www.cnn.com/video/#/video/bestoftv/2012/12/20/ac-syria-zaidoun-detained.cnn
Dr. Zoabi is a respected Dean at the European College in Damascus, and Sohaib is a medical student at the University of Damascus. Dr. Zoabi was a recognized voice in the media, frequently calling into Anderson Cooper 360 on CNN to provide updates on the dire situation on the ground in Syria. Dr. Zoabi always insisted that CNN use his real name rather than a pseudonym. When I chant I want freedom I can hear my voice for the first time in my life. How can I give up this? Even if it costs me my life, Dr. Zaidoun Al-Zoabi told Anderson Cooper on CNN in November 2011.
Dr. Zaidoun Zoabi and Souhaib Al-Zoabi are being held in the notorious Building #215 in Damascus, a facility that is well known for its torture and abuse of detainees. There are serious concerns for the life and safety of Dr. Zaidoun Al-Zoabi and Sohaib Al-Zoabi in detention.
We demand the immediate and unconditional release of Dr. Zaidoun Al-Zoabi and Sohaib Al-Zoabi and hold the Syrian regime responsible for any harm that may befall them, said Dr. Mazen Hasan, Chairman of SEO. Zaidoun is a man of conviction and integrity who worked tirelessly for the cause of freedom and justice in Syria. He was fearless, eloquent, and always spoke the truth, regardless of the cost in a country whose brutal government suppresses the voices of its own people, said Hasan. We hold Zaidoun, Sohaib and all Syrian prisoners of conscience in our hearts and will continue to press for their release.