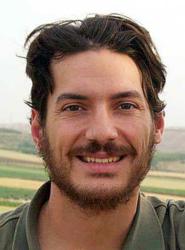 Washington DC
9/1/12 (PRWEB) September 02, 2012 — Austin Tice, 31, a freelance journalist and contributor to the Washington Post and McClatchy News, has reportedly been taken into custody by the Syrian government, according to a senior Czech diplomat and other sources close to the case. He was detained while covering the situation in Daraya, Syria, a town that last week was subject to a massacre of over 400 civilians by Assad forces.
SEE: U.S. Journalist Reportedly in Syrian Custody http://www.washingtonpost.com/world/middle_east/us-journalist-reportedly-in-syrian-custody/2012/08/30/bcf98ef8-f2d7-11e1-b74c-84ed55e0300b_story.html
Tice is a Texas native, Georgetown University Law student and former U.S. Marine Corps infantry officer. He spent the summer in Syria accompanying rebel forces. He has been missing since August 23. On July 25, Tice wrote on his Facebook page Traveling to Syria was the best thing Ive ever done. I dont have a death wishI have a life wish. So Im living in a place, at a time and with a people where life means more than anywhere Ive ever been because every single day people here lay down their own for the sake of others.
SEE: Concerns Mount Over Whereabouts of U.S. Journalist in Syria: Austin Tices Whereabouts Unknown

http://www.washingtonpost.com/world/middle_east/concern-mounts-over-us-journalist-in-syria-austin-tices-whereabouts-unknown/2012/08/23/857f0138-ed50-11e1-866f-60a00f604425_story.html
According to Reporters Without Borders, Syria is one of the most dangerous places for journalists, with 10 killed since the start of the Syrian uprising.
SEE: Reports: Missing US Reporter Held in Syria http://www.cnn.com/2012/08/30/world/meast/syria-us-journalist/index.html
Foreign journalists are major targets for Assad forces since the start of the uprising in a persistent attempt to stifle the dissemination of news, and hinder the documentation of the brutality of the Assad regime against the Syrian people said SEO board member Abdullah Ibraheem. The Syrian government has demonstrated time and again their disregard for the safety and welfare of journalists. They have been subject to documented assault, illegal detention, and some have even been deliberately killed, as was the case with Marie Colvin of the Sunday Times in February 2012. We fear for the safety of Austin Tice in Syrian government custody, where he faces inhumane conditions and possible torture. We demand his immediate and unconditional release, said Ibraheem.