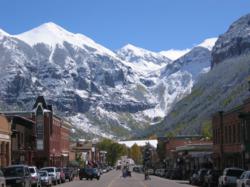 Telluride, CO (PRWEB) May 09, 2012
Telluride, CO With the goal in mind of simplifying the Telluride real estate search process for buyers, Broker Adam Black of Telluride Properties has successfully created the best Telluride real estate search platform to date, http://www.telluriderealestate.CO (not .com).
The new site is a central hub of Telluride real estate and general information, said Adam, who is already experiencing excellent visitor traffic in the second month of operation. The search platform is linked with FlexMLS, which is the same provider that Telluride real estate agents use when searching the MLS on a daily basis. Users get to see the Telluride MLS in real time with all the details and photos that the brokers see, whereas most other sites dont provide all of the vital specifics of a property that buyers are looking to see. Another great feature is the ability to search the Telluride MLS on a mobile device, which integrates with your phones GPS to show you listings nearby. Adam is a tech savvy broker, who utilizes the most up to date technologies, so that he stays ahead of the curve and can provide the very best services to his buyers and sellers, who he says tend to be quite savvy themselves.
With over 85% of buyers searching the web prior to making a Telluride home purchase, it is important to focus on a strong web marketing campaign. To provide more exposure for his listings and to meet more buyers, Adam has teamed up with Realtor.com, Trulia.com & Zillow.com which are the top 3 real estate search websites nationwide. Adam said, I am pulling visitors from the other top sites and redirecting them to http://www.telluriderealestate.CO because they will have a much better user experience and receive the most up to date Telluride property information, which is crucial when making such a large and important investment in a Telluride property.
Visitors will also find helpful information on related topics such as buying a home, selling a home, financing a property in Telluride, current mortgage rates provided by Zillow.com, list of local service providers and recent testimonials from buyers and sellers who have used Adam Black for their Telluride real estate transaction.
To broaden his network of potential buyers, sellers and referrals, Adam made sure there was full integration of social media, including Facebook, Twitter, Google+ and LinkedIn. They are frequently updated which is key to providing an engaging experience for the visitors. Its a great way for buyers & sellers to see what is currently happening in the Telluride real estate market, the overall economy and more general things like skiing conditions in Telluride and summer music festival line ups, Adam said of the growing popularity of social media. The international audience will be pleased to find a translate button, located in the wibiya bar running horizontally on the bottom of the home page.
The ultimate indication of how good http://www.telluriderealestate.CO is and how well people like it, is whether or not users of the site convert to actual buyers and sellers of Telluride real estate. He will be watching for the first conversion, which he estimates will take place early this summer. Regarding the search-ability of the site, Adam notes, things do take time to propagate on the web, but I have taken every step possible in the search engine optimization process to ensure that it reaches the top as quickly as possible. I believe this coming summer of 2012 will be strong in terms of sales and this site will help me increase my market share.
Visit http://www.telluriderealestate.CO today to search the entire Telluride MLS and find out more on all things Telluride. Feel free to call, or email Broker Adam Black, of Telluride Properties anytime to discuss your Telluride real estate needs. His 10+ years of experience and intimate knowledge of the market and area will prove extremely helpful throughout the Telluride home buying, or selling process.