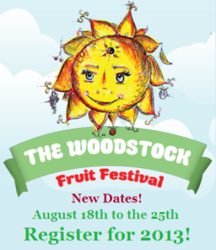 New York, NY (PRWEB) March 21, 2013
The Woodstock Fruit Festival is proud to extend an invitation to Natalie Portman to attend the Festival this August. Portman may best be known for her leading roles in Hollywood movies, but she is also committed to causes that help others. One in particular is being an Ambassador of Hope for FINCA International, an organization that promotes micro-lending to help finance businesses owned by women in developing countries. As part of this organization, Portman is dedicated to helping empower others by bringing awareness and attention to their mission. The Woodstock Fruit Festival also shares the same vision of helping others by providing educational classes, lectures and discussions about eating a fruitarian diet and healthy living. Kristina Peduto, Marketing and Public Relations Specialist for the Festival, states Natalie Portman shares the same passion and enthusiasm for FINCA International that we have for The Woodstock Fruit Festival. We both want to reach out to people, whether it be to improve peoples financial situations or help educate them about living in a healthful way.
In addition to helping people through FINCA International, Portman is also dedicated to helping animals by following a vegan lifestyle. She became vegan in 2009 after educating herself about the poor treatment of animals with factory farming. Since that transition to veganism, Portman has made an effort to help educate people about the impact that their choices have on other creatures. Michael Arnstein, founder of the Festival, believes that Portman would greatly benefit from attending the event this summer. He shares fruitarianism is pure and beautiful, its how the Garden of Eden was described. Natalie embodies those attributes. We would be very honored to share the love of fruit and peak health with her during our week-long event. Fruitarianism is the highest form of veganism, which we believe Natalie would enjoy experiencing. We hope that she will consider accepting our invitation.