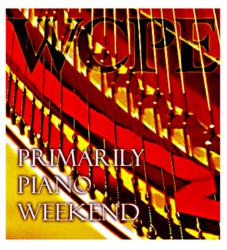 (PRWEB) May 01, 2013
WCPEs Music Director William Woltz announces Primarily Piano Weekend on May 11 and 12, 2013. The program will feature great composers as well as virtuoso performances.
The piano is a self-contained orchestra, with a wide range of pitch and dynamics, offers Woltz, who is also Allegro host. There is a tremendous capacity for expression.
A partial listing includes:

11 Saturday

7:00 a.m. Bach: English Suite no. 4 in F

8:00 a.m. Mozart: Piano Concerto no. 19 in F

9:00 a.m. Liadov: Eight Russian Folk Songs
12 Sunday

7:00 a.m. Scarlatti, D.: Sonata in E, Kirkpatrick 380

11:00 a.m. Chopin: Four Waltzes, op. 42 and 64

12:00 p.m. Dvor