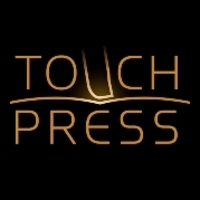 Champaign, Illinois; London, England (Vocus) June 24, 2010
The Elements for iPhone 4 is an essential download released today in the iTunes App Stores in the United States, United Kingdom, Japan, France, and Germany. This beautiful electronic book about the periodic table shows off Apple's new device to perfection. The title, published by Touch Press, is based on the best-selling iPad version by Theodore Gray, recently selected as the number one iPad app by the London Evening Standard. It has been reconceived for the iPhone 4 and recoded to take advantage of the new device's spectacular features, including retina display and gyroscope. The result is a magical combination of hardware and software that comes to life in your hand.
You start off at a periodic table composed of photographs of real chemical elements that you can explore with your finger. As you move around, the currently active element is shown in the selection area at the top of the page. Tap any element to go to that element's own page. There you will find an engagingly written account of the element and a wealth of related samples and objects. Each element has multiple objects with controls at the top of the page to browse them.
Unique to the iPhone 4 is that all of these objects rotate on the screen when you physically turn the phone around. The iPhone 4's gyroscope makes the objects appear to remain stationary even as the phone is rotated, giving you a unique and fun way to explore all sides of an objectespecially if you're sitting on a swivel chair! Or use your finger to turn any object as quickly or as slowly as you like. Each object responds effortlessly to your touch, and objects can be "thrown" to set them spinning. This is possible because every sample was painstakingly photographed from all sides on a precision turntable.
In addition, The Elements for iPhone gives you access to a huge depth of technical information about each element through the Wolfram|Alpha computational knowledge engine embedded in this ebook. Touch the Wolfram|Alpha logo and you will be taken to a continuously updated Wolfram|Alpha report on the current element. For example, tap the Wolfram|Alpha entry for gold and find the current market price.
The Elements is already a phenomenal success on the iPad with over 70,000 copies sold. Stephen Fry tweeted "Best App of all… Alone worth iPad".
For more information, or to interview Theodore Gray or Touch Press's CEO Max Whitby, please contact:
UK Contact

Alexander Martin, Midas Public Relations

+44-(0)20-7361-7860
USA Contact

Jilyan Landon, Touch Press

+1-217-372-3148
Notes to Editors:
Touch Press is a new digital publishing company based in London, UK and Champaign, Illinois, USA. It is led by its founding team:
Theodore Gray, co-founder of Wolfram Research, Inc., creator of the Mathematica notebook interface, and a columnist for Popular Science magazine since 2003. His most recent books, Theo Gray's Mad Science: Experiments You Can Do at HomeBut Probably Shouldn't and The Elements: A Visual Exploration of Every Known Atom in the Universe, were published in 2009 to wide acclaim.
Max Whitby is a multiple-BAFTA-award-winning former BBC producer. He brings to the team decades of experience in film and television production and in the design and delivery of interactive media. His science company RGB Research Ltd is based in London.
Stephen Wolfram is a renowned scientist, founder and CEO of Wolfram Research, Inc., creator of both Mathematica and the Wolfram|Alpha computational knowledge engine, and author of A New Kind of Science.
Touch Press is developing a series of electronic titles in science, technology, popular culture, and the arts. Partners include Wolfram Alpha LLC and Wolfram Research, Inc. Wolfram Alpha LLC is the creator of the Wolfram|Alpha computational knowledge engine. Its parent company, Wolfram Research, is a software company founded in 1987 that is the creator and developer of Mathematica.
SCREENSHOTS AND PRODUCT PHOTOGRAPHS
Available in all languages at http://touchpress.com/press/elements/
Mathematica is a trademark of Wolfram Research, Inc.

Wolfram|Alpha is a trademark of Wolfram Alpha LLC.

Apple is a trademark of Apple, Inc.
###